Ingredients
Gazpacho is probably my favorite cold soup. Its simple ingredients make it a perfect isotonic drink for hottest days like the ones we have now, and it also prevents dehydration thanks to the salts and vitamins it contains.
This recipe was taught to me by Dani García many years ago. It does not have cucumber, because I am one of those who, like Dani, does not put cucumber to the gazpacho, but it does have a little vinegar that gives a lot of joy to the flavor of gazpacho, although today we also put a little bit of that rock & roll that I like so much.
There are a thousand different versions that add strawberries, watermelon, cherries, apple and other fruits lightening the flavor or giving different nuances to this cold soup so rich and we today we are going to dat a Mexican touch by adding a few drops of spicy and serving it with a different garnish.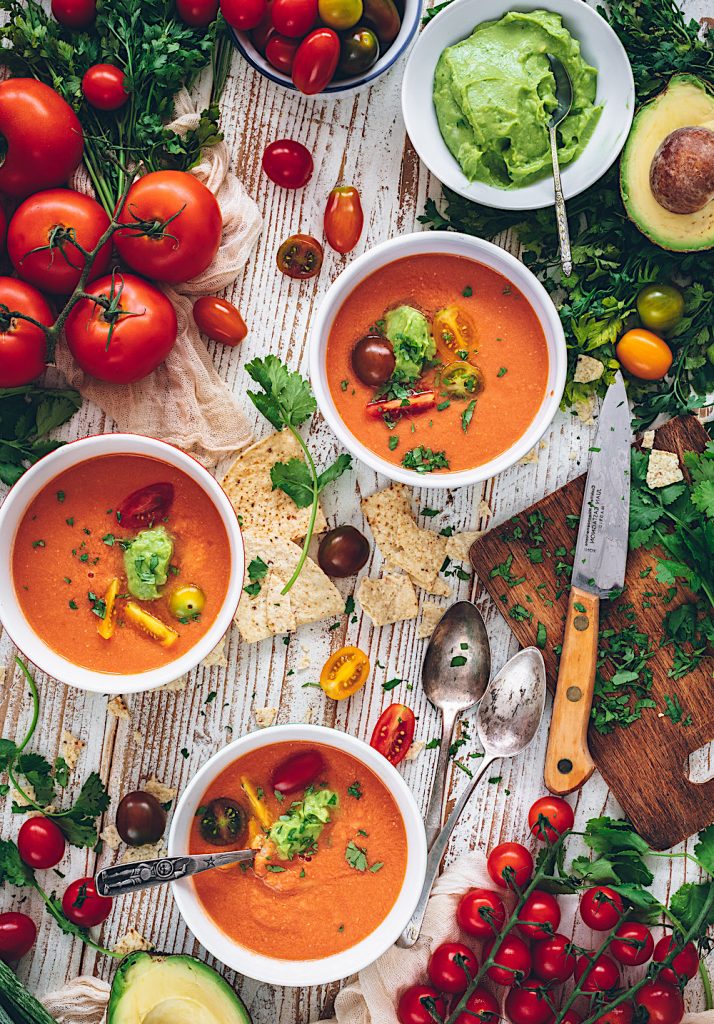 2 kg of ripe red tomatoes (I mixed pear tomatoes, red tomatoes and chery tomatoes)
1 green pepper
1 clove of garlic
1 fresh onion
100 ml extra virgin olive oil
2 tablespoons sherry vinegar
1 teaspoon salt
To accompany you
1 ripe avocado
some branches of fresh coriander
a little salt
a few drops of tabasco
1/4 of fresh onion very chopped
a handful of nachos
Directions
Wash the vegetables and remove the tail from the tomatoes and peppers. It is not necessary to peel them because I, once it is ready, I wash everything by a thin strainer so that the texture is creamy and clean.
Reserve some cherry tomatoes for the garnish.
Remove the strand from the center of the garlic tooth
In an electric mixer glass, we put all the ingredients. If we do not have an electric mixer, we can do it with a hand mixer, but it will take us more time and we will have to do it more times to make it easier to get the creamy texture.
Beat well until all the ingredients are well crushed and a smooth cream is left.
On a large bowl, strain the gazpacho with the help of a thin strainer to remove the seeds and skins and leave a creamy and fine texture.
Cool in the fridge until the time of serving.
In a bowl we put all the ingredients of the avocado cream except the onion and crush. Add the onion very chopped and mix well.
We serve with a tablespoon of the avocado cream and some cherry tomatoes cut in half. Finish with some coriander leaves and give a crunchy touch with some nachos.
Tips and Tricks
Add a few drops of tabasco to the gazpacho (optional)
Accompany it with chopped serrano ham and hard-boiled egg
We can prepare it in advance although we will have to move it energetically because the water is separated pro to the vegetables
Preparation time: 15 minutes
Difficulty: easy
Servings: 10 bowls