These macadamia cookies with chocolate, almonds and walnuts, are the most delicious of all those discovered on our last trip to New York.
They are the favorite cookies and Oprah Winfrey who included them in her list of favorite things in 2017 and that have since caused a sensation throughout the United States.
The history of this coffee shop is one of those beautiful ones that show that the United States is the country where dreams are achieved. And it is that when one grows up in a family where cooking is love everywhere it is easy to fall in love with it and even dedicate your life to cooking delicious things. this one that could be my story, is that of the founders of Maman.
In this café that you can not miss if you visited the Big Apple, they were inspired by their first childhood experiences in the kitchen and is also a nod to the mothers of the south of France and North America. The founders studied in France and Canada and were imbued with French charm and culture for the exquisite. So they decided to name Maman their business, which means "mother" in French in honor of their mothers and all the mothers who instill in us the passion for cooking at home. Why in French? Well, as a nod to his training and passion for French cuisine.
They are the best cookies I have tried in a long time and I hope you like them as much as we do in Manhattan and of course now at home.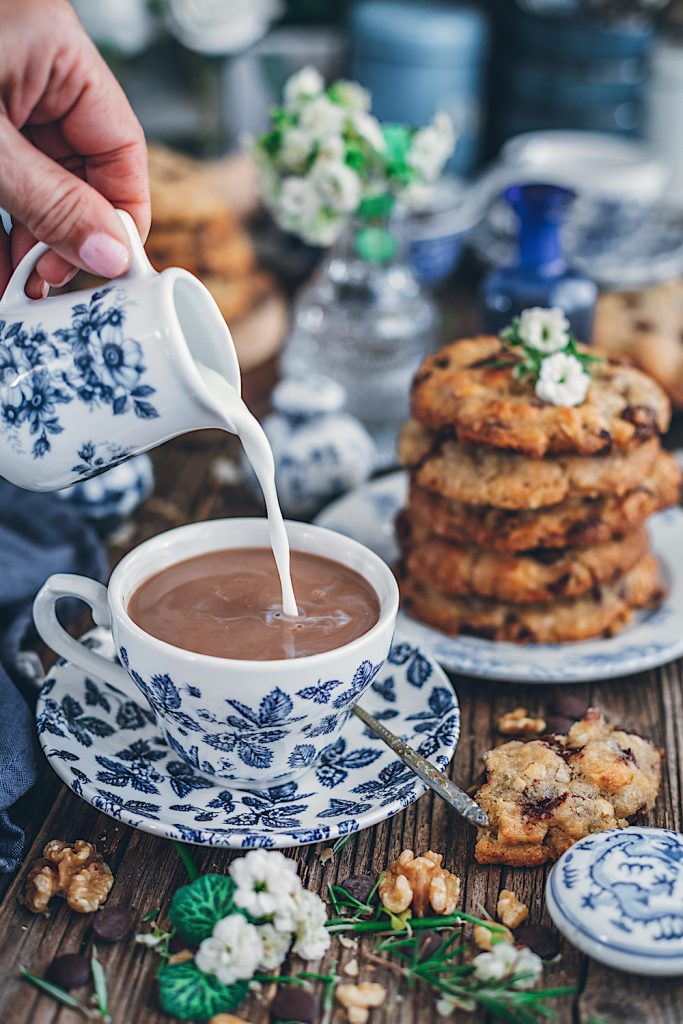 Ingredients
300 g dark chocolate (I used dragees)
225 g unsalted butter, at room temperature
120 g unsalted raw macadamia nuts
50) of raw almonds in slices
50 g unsalted raw walnuts
300 g light brown sugar
325 g of flour
5 g salt
1 teaspoon and a half vanilla extract
2 large eggs at room temperature
Directions
In a bowl beat butter with the sugar until it is well mixed and somewhat fluffy.
With the blender still running at low temperature, add the eggs, 1 at a time, scraping the sides of the bowl with a spatula after each addition, and mix until the dough begins to adhere to the sides of the bowl.
Add the salt and vanilla and add the flour three times mixing each time until it is all incorporated and we have unmixed parts.
Scrape the sides of the bowl again. Add the macadamia nuts, almonds and walnuts and mix at low speed to distribute evenly. We finish adding the chocolate and mix again
Divide the dough into equal portions of about 100 g each (14 will come out) and, with our hands, form a ball with each portion. We pass them to a tray, cover them with film paper and leave it in the fridge for a minimum of one hour.
Preheat the oven to 180 degrees Prepare a baking sheet with baking paper. Place 6-7 balls of dough in the prepared tray, spacing them approximately 7-8 cm and with the palm of your hand flatten them slightly until they have a thickness of 1.5 cm. We put on top some chocolate tablets so that the melt can be seen on the cookie.
Bake for 12-13 minutes, until the edges are golden but the center is still soft. Let them cool in the tray for 10 minutes before passing them to a rack. Repeat with the remaining cookies.
We can take them still warm or let them cool completely. With a warm chocolate to my m enchant although Javi prefers them with a glass of cold milk. You decide!
Tips and Tricks
We can leave them up to a week in the fridge well wrapped in film paper
You can use the nut you like best but this combination is simply perfect
Difficulty: easy
Preparation time: 25 minutes
Servings: 14 cookies