These gingerbread cookies are going to drive you crazy you'll see. When Javi asked me this year to prepare the gingerbread man of each year, I realized that I had never shared this recipe with you.
It's a recipe I've had for many years and one that I brought from a trip to the UK long before I went into this. On that trip I tried some cookies that I loved because they did not have the bitter taste that many gingerbread cookies have and that I do not like. We were at a friend's house and a girl had made them for her birthday. I found them delicious! so I asked him for the recipe and he gave it to me!
From there, I made some adjustment in amounts of sugar, syrup and ginger but for many years I have always fixed it.
Regarding sugar, if you use dark brown sugar you will get darker. Within the brown sugars there are different shades depending on their origin and I prefer to use the lighter brown sugar I find. You can use normal brown sugar or even white sugar. The only difference will be the color.
Another factor that directly affects the color is the type of syrup or honey you use in the recipe. Molasses or cane honey will give you a darker tone while flower honey or syrup will give you more golden. I like claritas and that's why I use golden syrup that you will find in English food stores and international supermarkets and in stores like Maria Lunarillos.
Anyway, I do not roll up anymore, soon I will bring you my little ginger village but in the meantime we stay with these rich ginger men.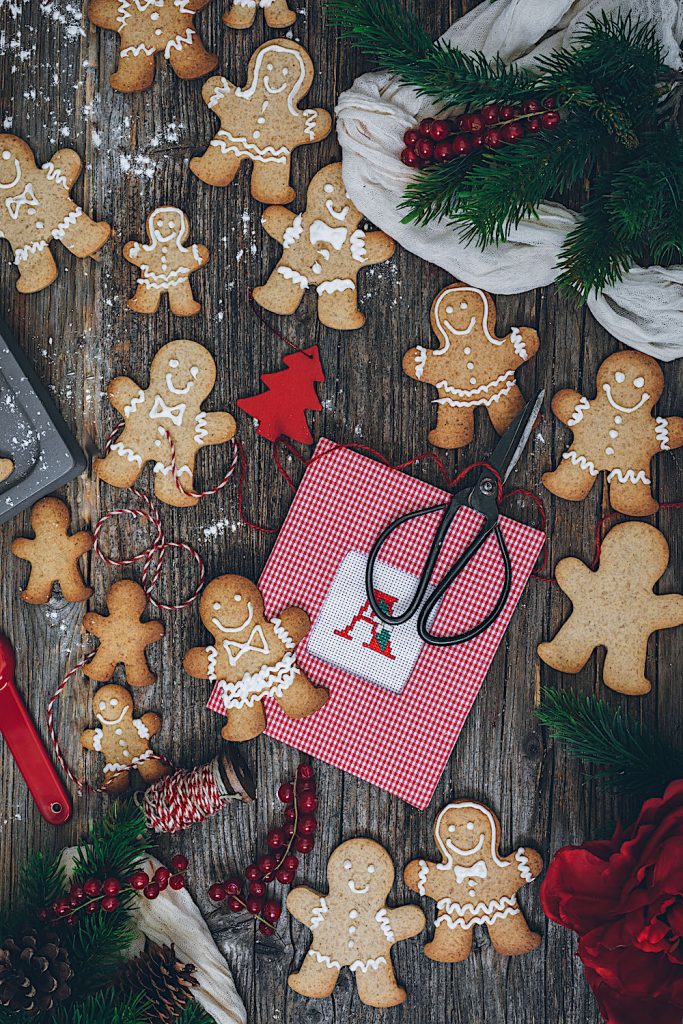 Ingredients
For cookies:
145 g butter
115 g light brown sugar
115 g of golden syrup, agave syrup or cane honey
1/4 teaspoon ground nutmeg
1/4 teaspoon ground cloves
1/4 teaspoon ground ginger
1 teaspoon cinnamon
1 teaspoon pure vanilla extract
1 egg
400 g pastry flour
For glaze
200 g icing sugar
1 egg-white
a few drops of vanilla aroma (optional
Directions
For the cookie dough, mix the butter with the sugar. I did it by hand but you can use an electric mixer. When it is well mixed add the spices and knead a little. Now add the syrup or honey and vanilla along with the egg and mix well. I used a Danish beater like this because it is super comfortable and very easy to handle (we have already used it many times in bread doughs and rolls).
Add the flour three times mixing each time when we have added it all, knead with your hands to form a ball. We form a ball, which we divide into two parts.
Stretch each of the portions between two sheets of baking paper with the help of a roller, until they are about 3-4 mm thick. We place them on a tray and take them to the fridge for an hour or 20 minutes in the freezer.
After this time, we prepare a baking tray with baking paper and take out the cookies. Remove the top paper, and with the help of a cutting mold we cut the dolls.
Preheat the oven to 175 degrees. We put the cookies on the prepared baking tray and bake them between 10 and 12 minutes depending on whether we have frozen them. We will leave them in the oven until the edges are slightly golden. Leave the cookies on the tray for a few minutes and transfer them to a rack until they are completely cold.
When they are cold, we prepare the frosting that will serve as decoration. Beat the sugar, vanilla drops and egg white, first slowly, and then faster (you can do it with electric rods but I do it by hand with small rods) until the cream has a body and is very thick.
We put the frosting to a pastry bag equipped with a small smooth round nozzle, and decorate as we wish.
Tips and tricks
Freeze perfectly with or are glazed
If you live in a place without humidity they will last crispy in a can for days if you are able to not eat them all!
Difficulty: easy
Time of preparation:
Portions: it depends on the size of the cookies but you will get enough to make several people happy at once