This galette of cherry tomatoes with cream cheese and basil is already part of our favorite recipes in summer. And/ is that it is very easy to prepare and delicious at the same time.
We make the dough homemade, in 5 minutes, without a blender or anything. By hand mixing the ingredients easily and remains crispy and with a unique flavor.
The filling is soft and with a lot of flavor at the same time and I am sure that if you try it you will repeat it a lot of times because you will fall in love with everyone who sits at your table.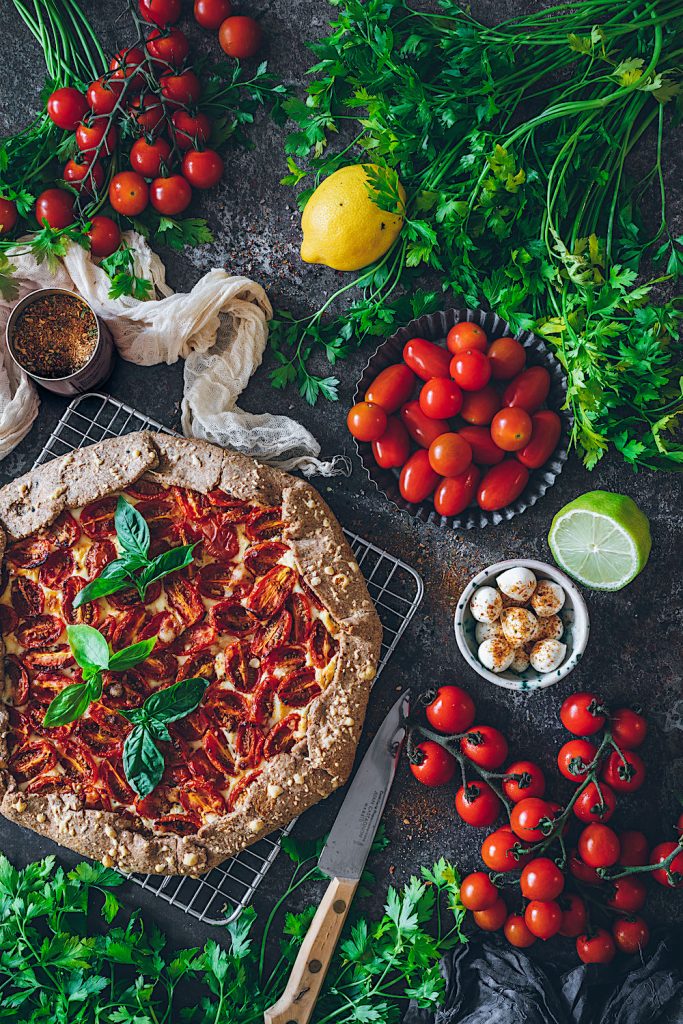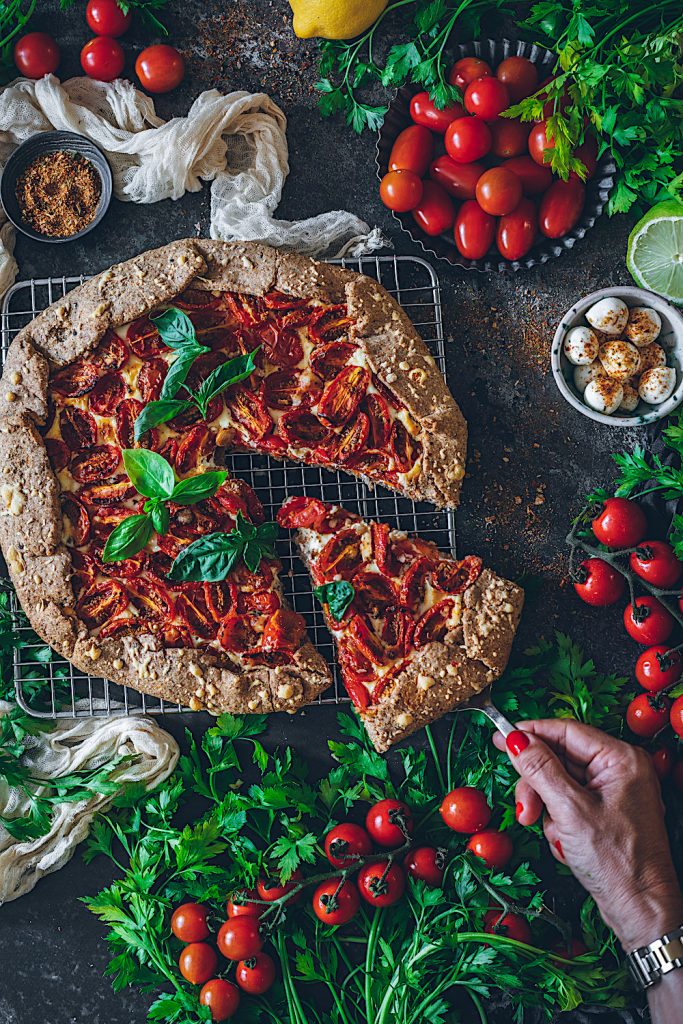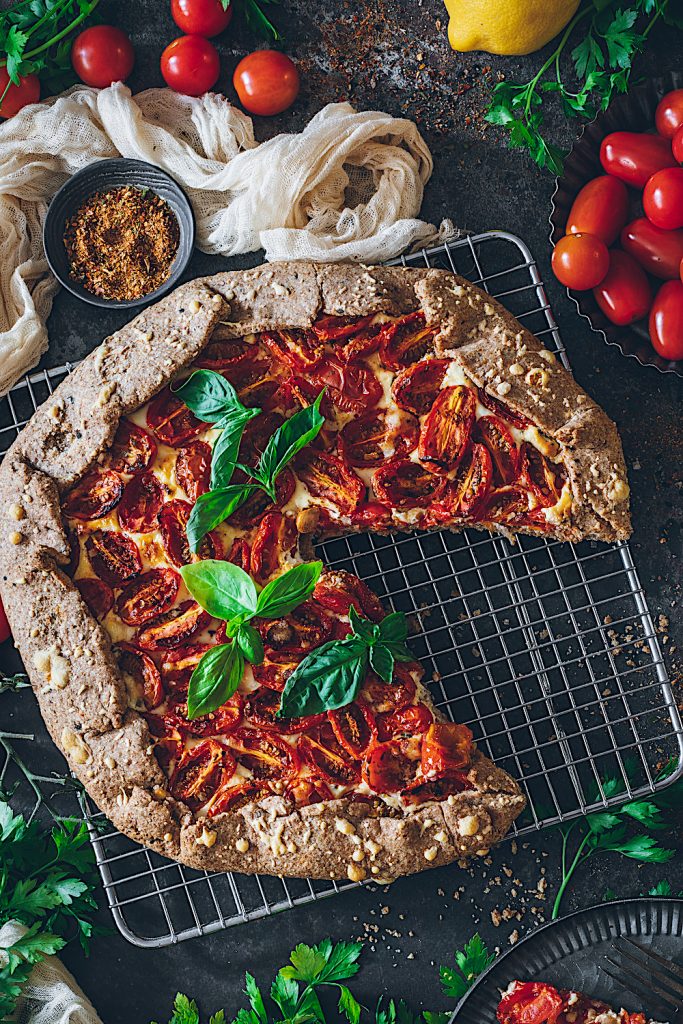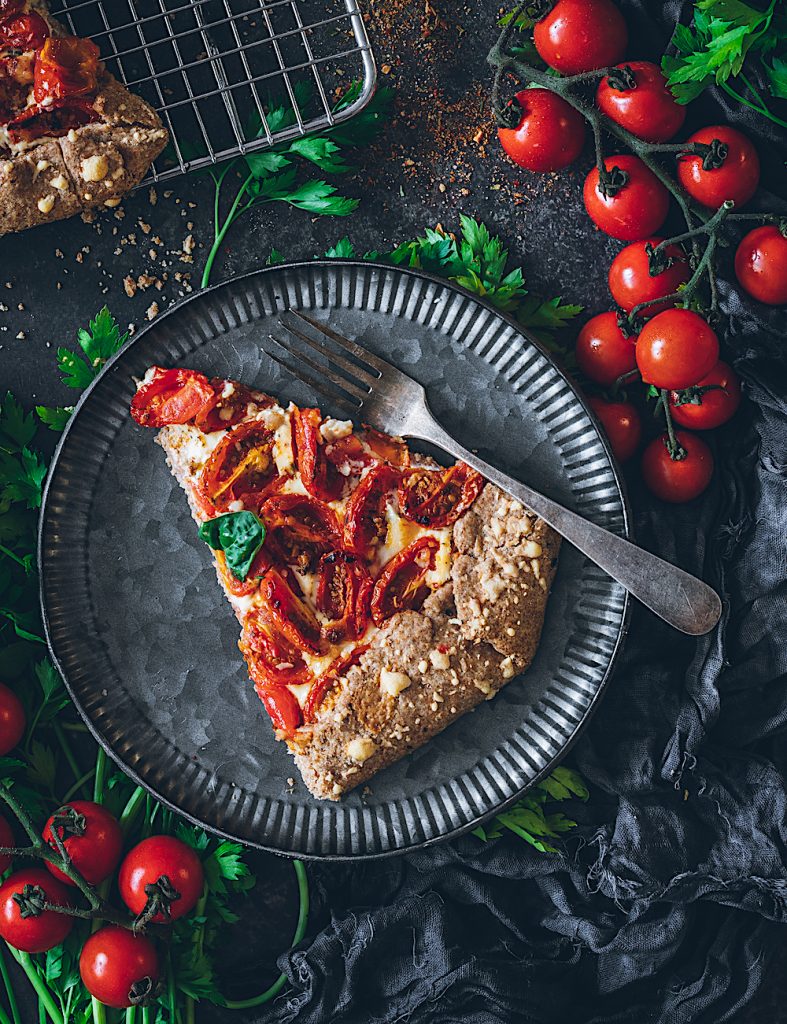 Ingredients
For dough
300 g of wholemeal flour (for a gluten-free version replace the amount with gluten-free flour and you can use half of almond flour and half of tapioca flour)
100 g unsalted butter, cut into cubes
1/2 teaspoon sugar
1 teaspoon salt
30 ml of extra virgin olive oil
80-100 ml of cold water (you may not end up using the total amount)
herbs (optional)
For tomatoes
300 g of cherry tomatoes
some chopped basil leaves
some chopped rosemary
a pinch of salt
For the cream
150 g cream cheese
50 ml of liquid cream
1/2 lemon zest
1/2 teaspoon salt
1 pinch of pepper
For decorating the cake
30 g of grated cheese
1-2 tablespoons olive oil to paint the dough
basil leaves to decorate
Directions
Preheat the oven to 190 degrees.
Mix the flour and salt in a large bowl.. Add the grated cold butter. With our hands we add the olive oil and water (not all) and herbs (if we are going to use them), and knead until it is all united in a uniform mass. Add more ice water if necessary to form a dough.
Spread the dough on a lightly floured work surface until it is 3 mm thick and put it in an oven tray lined with baking paper.
Wash and dry the tomatoes. Cut them in half and put them in a bowl. Add the very chopped spices and a pinch of salt and mix well.
In a bowl, mix the cheese with the liquid cream until you get a smooth cream. Add the lemon zest, salt and pepper and beat until everything is well mixed. Spread the mixture over the dough, leaving a border of 3 cm.
Place the tomatoes on the cream and bend the edges. Paint with olive oil and sprinkle with grated cheese.
Bake for 40-45 minutes or until the crust browns. Let cool for 5 minutes and serve with a little salad. Enjoy!
Tips and Tricks
You can use your favorite spices
Preparation time: 15 minutes plus 45 minutes of cooking
Difficulty: easy
Servings: 10