This cherry crumble recipe is one of my favorite harvestrecipes. When I have fruit that has become ugly this recipe is perfect for me. We talk about fruit but it is not bad but it is no longer showy, and it is less appetizing to eat because it is no longer pretty.
That fruit that I love to use to make jams or in this cherries crumble today.
You can prepare them with cherries but also with strawberries, berries, apricots, peaches, pears. Apples... and a lot of possibilities.
It is very simple to prepare and oats gives a crispy touch which I love and which distinguishes it from other crumble I've done as the red fruits that you liked so much last year. A perfect recipe to accompany whipped cream or ice cream and that everyone likes. Let's go get her!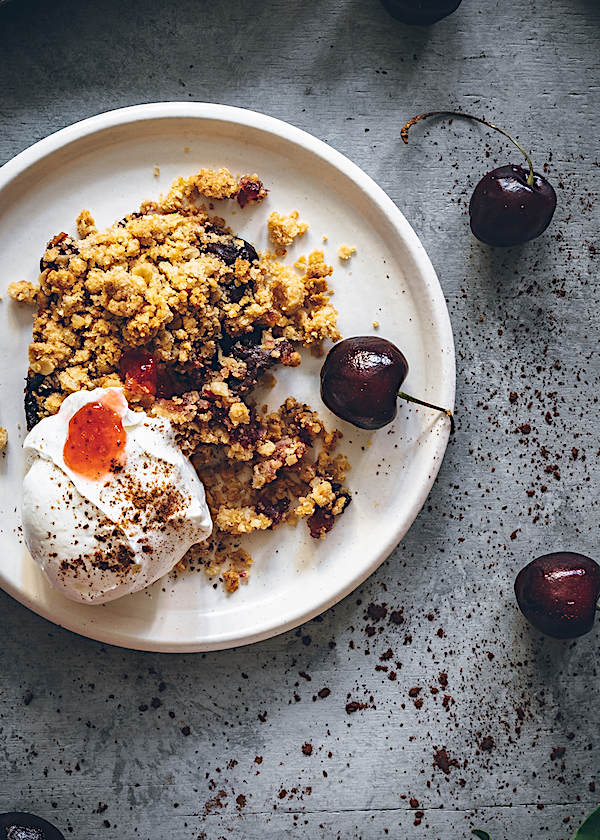 Ingredients
For the crumble
150g flour (for a gluten-free version you can use almond flour)
100g brown sugar
80g oatf flakes
130g unsalted butter, diced
1 teaspoon pure vanilla extract
For cherries
500g boneless and washed cherries (or mixed cherries and strawberries, or red fruits)
100 g brown sugar
2 tablespoons cornmeal (maicena)
1 teaspoon pure vanilla extract
Directions
Preheat the oven to 180 degrees.
Prepare a pan with a baking paper on top. I used a rectangular one, but you can use a round one. Book.
In a bowl mix the cherries with the sugar, the vanilla and cornstarch. Mix so that the cherries are well covered. Put the cherries on the pan.
In another bowl mix the crumble ingredients by pinching the butter until the mixture looks like a fat flour with bits of dough.
Bake for about 40-50 minutes until the dough is golden brown and the fruit juices bubble in the corners.
Serve warm with ice cream or whipped cream
Tips and Tricks
Substitute cherries for berries or albaricoques
Difficulty: easy
1 hour preparation time
Servings: 10