Café Dalgona is without a doubt the most famous café on Instagram and the rest of the Social Networks.
I had NOT heard of it until one afternoon I saw my son prepare him with soluble coffee decaffeinated. I asked him and he showed me a lot of videos about him.
It soon became our rite every afternoon. But after a few days I realized that I wanted a cold, chocolatey version a lot more, so we got to work and ended up with this recipe that I hope you like as much as I do.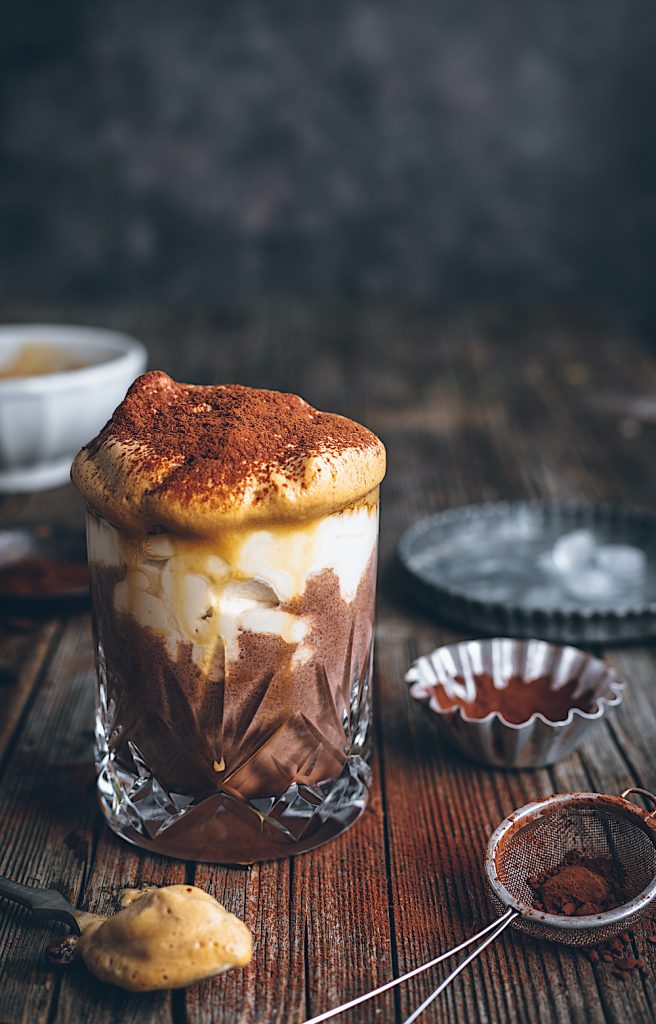 Ingredients
For coffee foam:
90ml water
3 teaspoons soluble coffee
3 teaspoons icing sugar
For whipped cream
200ml very cold liquid cream
1 tablespoon sugar
For chocolate
1 handful minced hue
2 tablespoons cocoa or cola-cao or chocolate powder
150 ml milk
1 tablespoon sugar, syrup or honey
Directions
In a bowl mix the coffee, water and icing sugar with an electric stirrer or sticks, mix until a consistent foam.
If we do it in thermomix, mix 2 minutes without temperature at speed 4. Remove the foam and set aside in a bowl
In a bowl mix the cream with the sugar with the help of electric rods until you get a soft cream but not too firm. Book.
If we do it in thermomix, beat 1 minute at speed 3. Remove the cream and set aside in a bowl.
Mix the milk with the cocoa without clumping left. Add a tablespoon of syrup (or your favorite sweetener) and mix well.
If we do it in thermomix, put the milk, in sweetener and cocoa and mix 20 seconds at speed 4.
On a glass put the ice. Dump two chocolate fingers, on top tablespoons of whipped cream and finish with the coffee foam. Sprinkle with a little cocoa powder. Enjoy your moment!
Tips and Tricks
The cream can be mounted beforehand.
Use vanilla ice cream instead of whipped cream
Difficulty: easy
Preparation time: 5 minutes
Rations 2