This cachopo de dorada is the recipe that we have brought from Asturias in our last getaway. And although in reality the recipe we took was with sole, I thought it was a very good idea to make a sea and mountain with these bream so here I bring them to you.
Of course you can try sole or sea bass but the sea bream are so rich and so well priced whenever I think it's an opportunity to give them a twist.
They are also suitable for all audiences because children will adore them just like the older ones and also have no gluten since we use corn flour to bread them. Let's go for the recipe!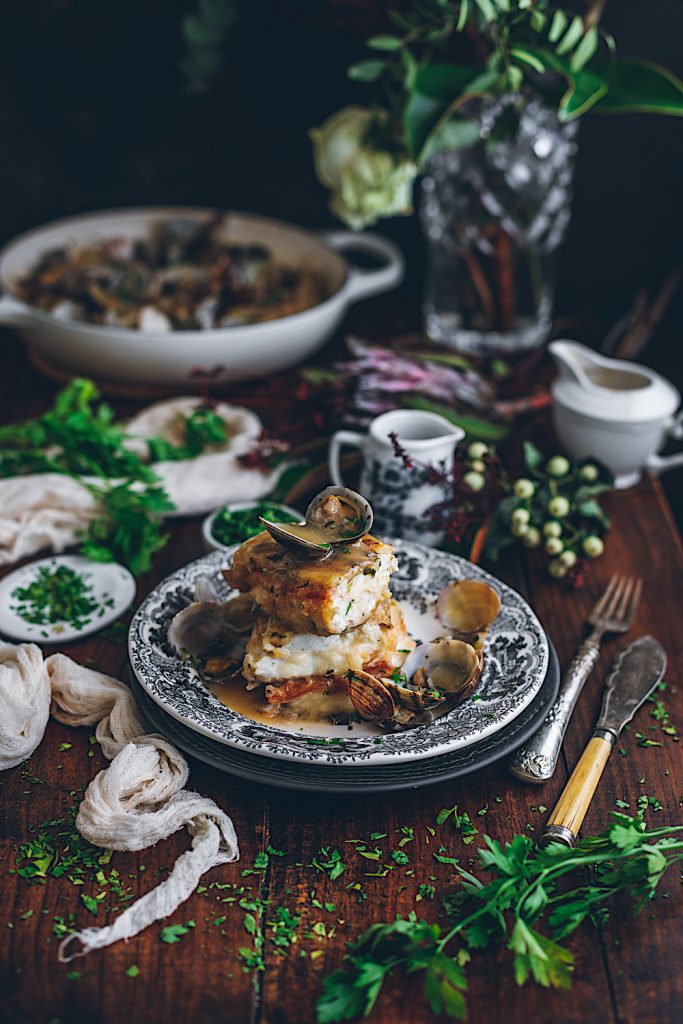 Ingredients
3 golden in skin or thorns
3 slices of queo
3 slices of cooked ham
salt to taste
freshly ground pepper
3 tablespoons of corn flour (you can use the flour you want but with corn it is crispier)
2 eggs
olive oil for frying
For the sauce
2 garlic cloves minced
2 tablespoons AOVE
300 g clams
150 ml of white wine
1 tablespoon chopped parsley
1 tsp. cornstarch
45 ml water
150 ml fish broth
Directions
Cut the sea bream fillets clean of skin and thorns in half. Add a little salt on each steak.
Place on top of a sea bream fillet half a slice of cheese and another half of cooked ham. We pass each fillet stuffed first by beaten egg and then by cornmeal.
Fry in plenty of hot oil until golden on both sides (about 2 minutes on each side).
We pass them to a plate with absorbent paper.
In a saucepan heat the oil for the sauce and brown the garlic cloves very chopped.
Add the clams, parsley and white wine. Cover and let them open. In a glass mix the cornstarch with the water. Add it to the saucepan and add the fish broth. Let it cook for a couple of minutes until the sauce thickes slightly and enjoy!
Tips and Tricks
You can use the fish that you like the most
You can replace cooked ham with Serrano ham
Difficulty: easy
Preparation time: 30 minutes
Servings: 3