With this banana and chocolate cake we have celebrated this year's Father's Day breakfast. This year I have been lucky enough to be able to celebrate it with my father so it has been doubly happy, and although we took it yesterday, today I bring you the recipe that I am sure you will love.
It is a cake that is prepared by hand, without the need for a blender and that if there are children at home, you can prepare with them because it is going. enjoy a lot.
I leave you the recipe without more than telling you that it will become the best companion of your breakfasts and snacks. I'm sure.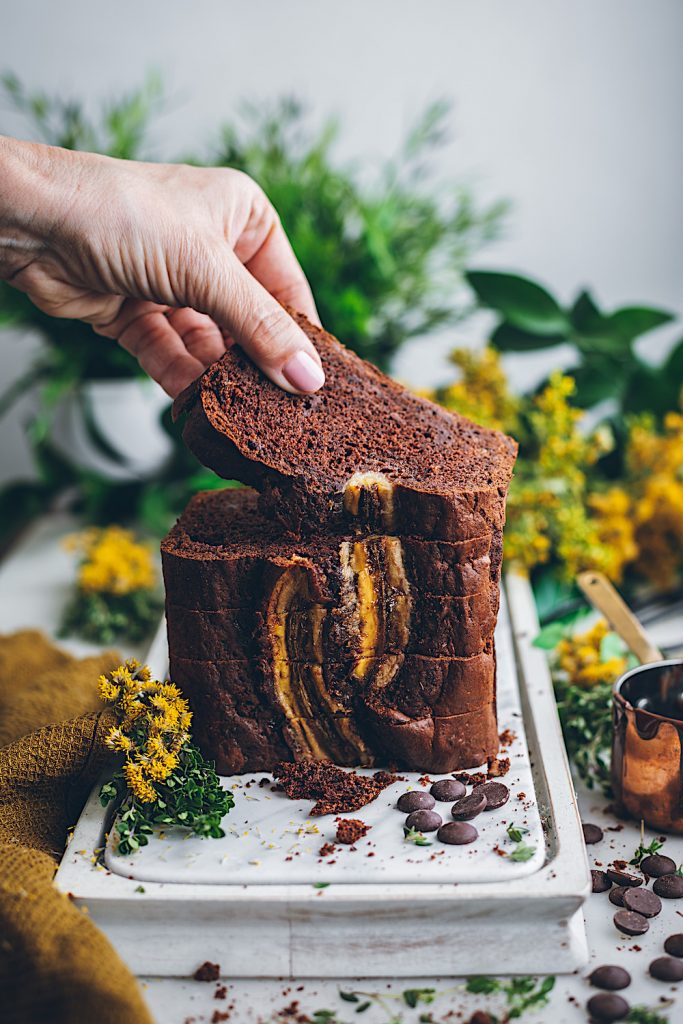 Ingredients
3 very ripe bananas (we keep one to decorate the top)
120 g brown sugar
75 g unsalted melted butter or olive oil
120 ml of milk
1 egg at room temperature
1 teaspoon of vanilla extract
1 teaspoon cinnamon mixed with cardamom powder (the optional cardamom but gives it a very optional flavor)
270 g all-purpose flour
1 and 1/2 teaspoon baking powder
1 teaspoon of baking soda
1 pinch of salt
20 g pure cocoa powder
100 g chocolate chips
Directions
We preheat the oven to 175 degrees C depending on hot air that is always the best for biscuits.
We generously grease a mold of approximately 22 x 11.5 and cover it with baking paper that we will also grease.
In a large bowl, combine the bananas, brown sugar, butter, milk, eggs and vanilla and mix well with a wooden spoon.
In a separate container, mix the flour, cocoa, baking powder, baking soda, spices and salt. Add the dry ingredients to the banana mixture and mix until smooth. Add the chocolate chips and mix again.
Fill the mold. Cut the banana we had reserved in half and place it on the dough.
Bake about 40-45 minutes, until a prick with a toothpick in the center, it comes out clean.
Let the cake cool in the mold for about 10 minutes, then unmold and place it on a rack to cool completely before serving.
Tips and Tricks
If the mold is larger mo will come out so high.
If the mold is not metallic (glass or porcelain) you will need more cooking time
You can add a handful of chopped nuts or your favorite nuts
Difficulty: easy
Preparation time: 50 minutes
Servings: 10