These baked eggplants with quinoa crisp is one of the most successful ways to eat quinoa. It serves as breadcrumbs in the topping but gives it an extra crunchy touch that I love and that works very well.
We just start the season that will accompany us all the autumn and it is a different way to eat them and also gluten-free!
They are very easy to prepare and instead of being fried, we make them in the oven with which we also save the oil of frying them. I am passionate about fried eggplants that are also very much of my land, but I recognize that during the week I deprive myself of them to get that balance that allows me to eat everything on the weekend in exchange for taking care of myself a little from Monday to Friday.
Today I accompanied my baked eggplants with crispy burrata quinoa and some tomatoes that I roasted while the eggplants were cooked. Plate of 10. Do you sign up?, well come on.
Here I leave the video for you to watch:
https://www.instagram.com/reel/CUdHtfMjTW9/?utm_source=ig_web_button_share_sheet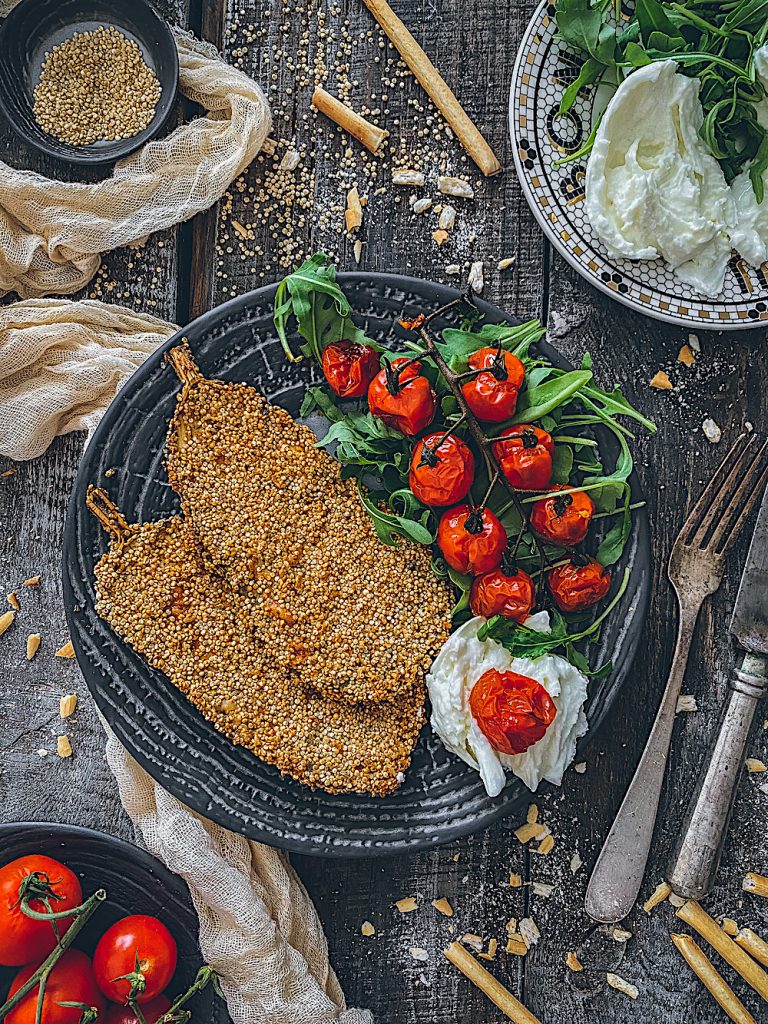 Ingredients
2 medium eggplants
150 g white quinoa flakes
50 g of flour
50 g grated grana padano cheese
1 teaspoon paprika
1 teaspoon oregano
a little freshly ground black pepper
2 eggs
30 ml of extra virgin olive oil
300 g cherry tomatoes in branch
a few leaves of Arugula
Directions
Preheat the oven to 200 C.
Cut the eggplants along into slices 1.5 cm thick. Add salt and let them rest for about 10 minutes on a strainer to release all the water.
Dry well one by one.
In a deep dish mix the quinoa, the grated cheese and the ground black pepper. Prepare a baking sheet with a baking paper and set aside.
Beat the eggs and pass each slice of eggplant through the egg and then through the quinoa mixture making sure they are well covered on all sides by lightly pressing the quinoa on the eggplant.
Put the eggplants on the baking sheet and add a little extra virgin olive oil on top. Add the cherry tomatoes to one side of the tray.
Bake for about 30 minutes until the eggplants are crispy and the quinoa dried.
Serve with mozarella, arugula and some fresh basil leaves
Tips and Tricks
You can replace quinoa with breadcrumbs
Serve with a Greek yogurt sauce mixed with chopped cucumber, chopped mint, salt and pepper
Difficult: easy
Preparation time: 45 minutes
Servings: 3