This piñata cake is a dream come true.
You have asked me many times to make a gluten-free multi-layer cake, one that will serve you for the special days when you show off but gluten-free.
This one today is also a piñata cake. I filled it with sugar files that do have gluten, but you can fill it with small chocolate bars, smarties or conguitos and it will look just as pretty.
And even if you find it very difficult, it's not. I also leave you the video so you can watch it for yourself.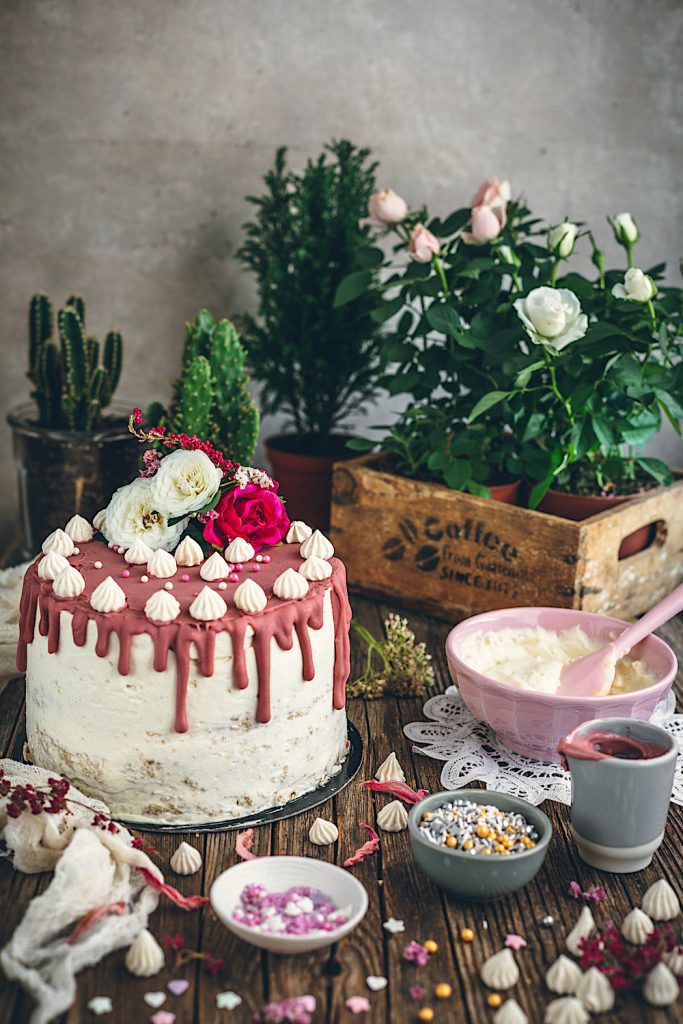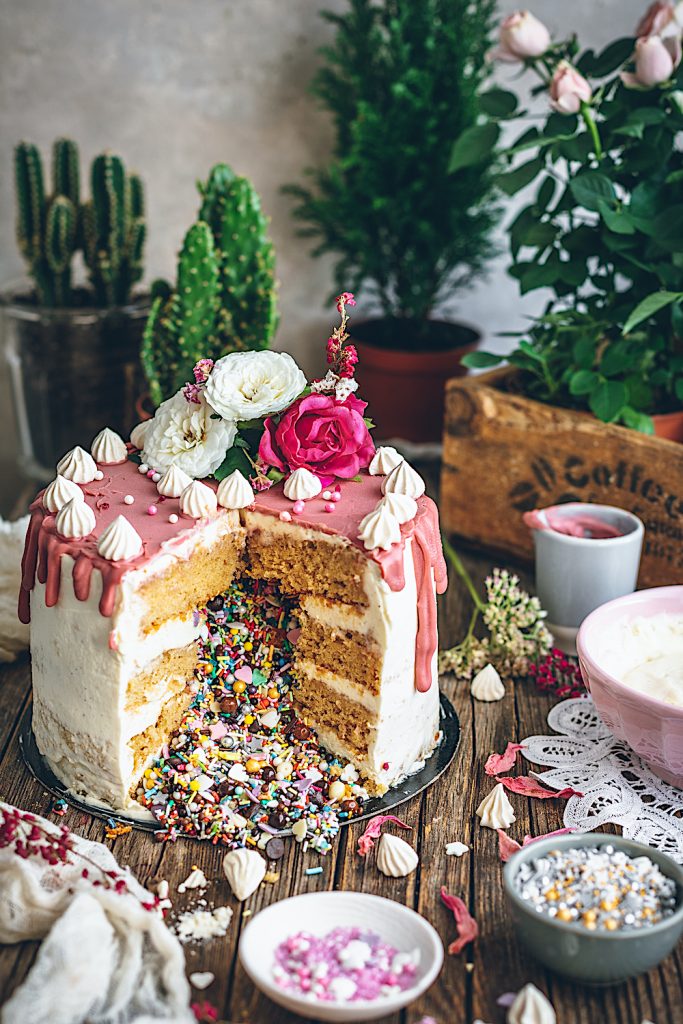 Ingredients
For the sponge
170g butter
225g whole-grain cane sugar
2 teaspoons pure vanilla extract
3 eggs
70g rice flour
70g gluten-free oatmeal
170g ground almond or almond flour
2 1/2 teaspoons yeast powder
1 teaspoon baking soda
a pinch of salt
200 ml buttermilk (or 180 ml of creamy yogurt skimmed with 20 ml of semi skimmed milk)
For the mascarpone cream
300g cold mascarpone cheese
350ml 35% very cold fat liquid cream
150g ground cane sugar
1 tablespoon pure vanilla extract
To decorate and fill the piñata
200g chocolate noodles, lacasitos,
100g ruby chocolate or your favorite chocolate
Directions
Grease a baking sheet and line with baking paper. We preheat the oven to 170 degrees
In a bowl mix the flours, yeast powder, baking soda and salt and mix. Reserve
Add the eggs one by one by whisking well before adding the next one and scraping the walls of the bowl before adding another.
Add half the flour and beat at a low speed. Add the buttermilk or yogurt and mix well. We finish adding the rest of the flour and mix again until we get a smooth, even dough.
Pour the dough on the prepared baking tray and bake for about 20 minutes or until when you prick the cake with a toothpick in the center, it comes out clean. Let cool completely on a rack.
When it is completely cold, with the help of a kitchen ring about 16 cm in diameter, we cut 3 perfect biscuits. We'll form the room with the remaining cuts.
For the cream, in a bowl beat the mascarpone with the sieved sugar and vanilla with electric rods, until smooth and smooth. Gradually add the liquid cream and beat until you get a consistency of body cream that can be used.
Since we have 3 sponge bases, with the help of a small ring or a glass, we cut a circle in the center of 3 of the 4 sponge bases. This will be the hole where we'll hide our piñata.
Put one of them on the base and cover with the vanilla cream. We put another one on top and cover again with the cream. we repeat with the last base to which we have cut the center. Fill the entire gap with chocolates, chips and colorful balls. We put more cream and cover with the full sponge base.
Tips and Tricks
Fill the treat with your favorite chocolate bars and you can even use it as a hiding place for your gift for that special person.
Filled with chocolate cream and you'll get a beautiful color contrast
Servings: 10
Difficulty: easy
Preparation time: 45 minutes plus 30 minutes of freezer cold weather