This watermelon and octopus splash with prawns has become the favorite salad on our table these days. You can put and remove ingredients as you like but it will always be incredibly tasty. L absinthe of mine don fruits and vegetables and to give it a more complete touch I have added cooked prawns and octopus.
Now we find in the market a lot of fruits full of color and flavor and I love to incorporate them into my salads and create colorful dishes like this one today.
It is super easy to prepare and allows you to prepare it from one day to the next. It is perfect to take to the beach or picnic and to leave it prepared at home and find it cool on the way back from work.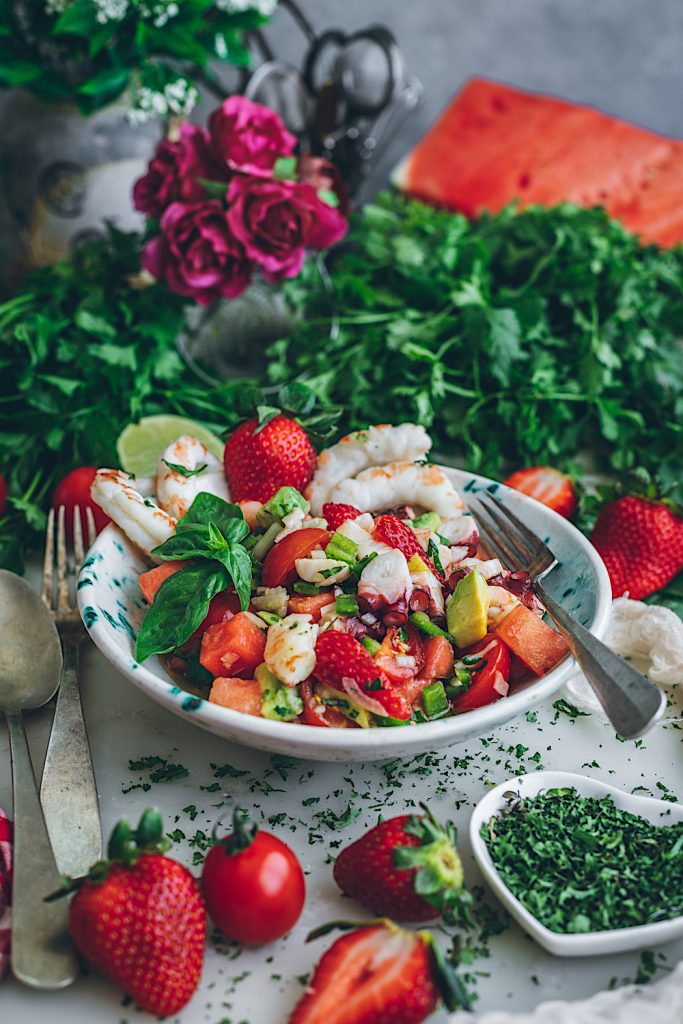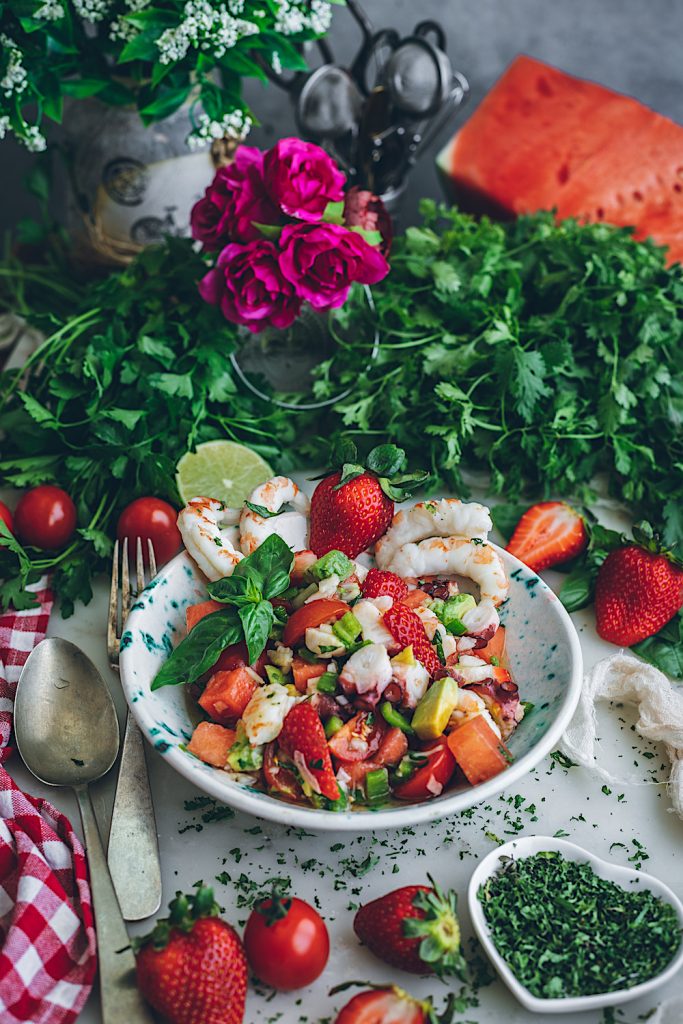 300 g watermelon
200 g cooked prawns
2 octopus legs
150 g of assorted cherry tomatoes
1/2 green pepper, chopped
1/4 fresh onion
1 avocado
1 handful of strawberries or cherries
some branches of fresh coriander
a few sprigs of fresh parsley
a few branches of fresh basil
1/2 lime
60 ml extra virgin olive oil
salt
Wash and quarter the cherry tomatoes. Reserve.
Chop the green pepper in small squares and do the same with the fresh onion.
We chop the watermelon into small squares.
Prepare the dressing with parsley, basil, coriander, lime juice and olive oil with a pinch of salt salt.
Cut the avocado into cubes and the pepper into squares and the strawberries into quarters.
We put all the ingredients in the fountain. Cut the prawns or prawns into 2 or three pieces and cut the octopus legs into small pieces.
The idea is that in a single fork we have a little bit of everything.
Season with the vinaigrette and mix well.Decorate with some basil leaves and enjoy!
Tips and Tricks
You can add some arugula
Difficulty: easy
Preparation time: 5 minutes
Servings: 3