This marinated salmon is one of the recipes that we repeat the most at home. Because it is an easy and healthy recipe that everyone likes at home and that is accompanied by a very rich tartare.
Normally a marinated salmon chicken takes a minimum of 8 hours to catch the flavor. However withZwilling Fresh & Save kit, in just a while hour we will have a chicken with all the flavor, tender and ready for the result to be a delicious salmon.
The vacuum makes the marinade penetrate the fish much more quickly and especially in such an easy way that I use it over and over again in a lot of different recipes.
Of course you can do it with your favorite fish (with tuna it is also great) but salmon is a very easy fish to find almost anywhere all year round so today we are going to try it as is. Let's go for the recipe!
I also leave you the video of how to prepare it easily. You'll see how rich :)
na shared publication of Lola Bernabe (@loletabylolet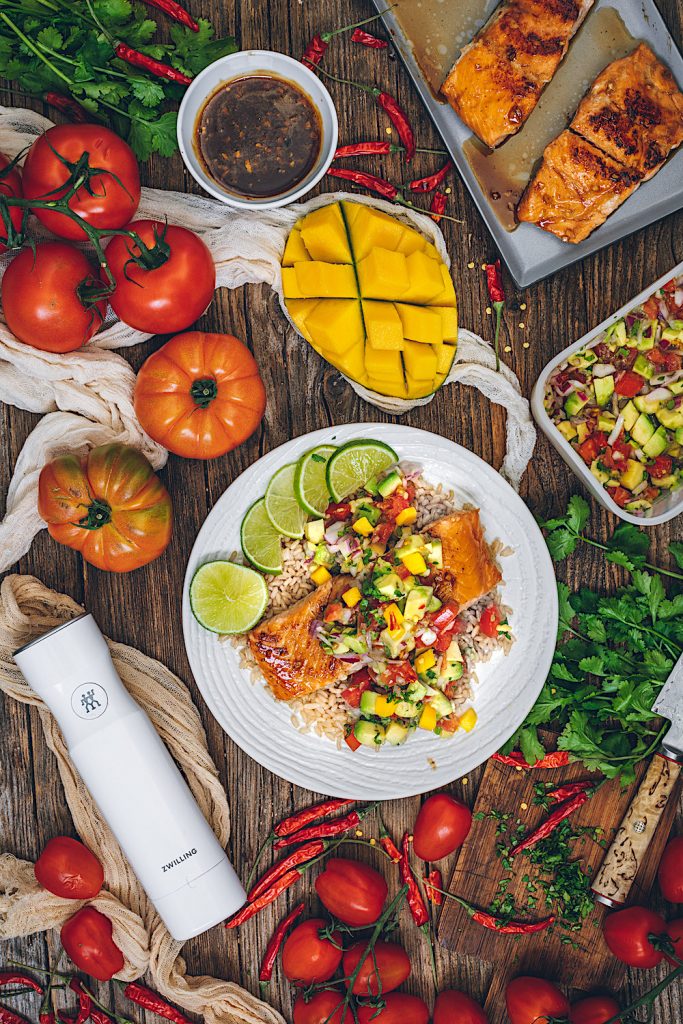 Ingredients
For salmon
60ml soy sauce

55 g brown sugar

1 tablespoon rice wine vinegar

30 ml of mirim or Japanese wine (you can replace it with fine wine or chamomile or white wine)

2 teaspoons of cornstarch

2 garlic cloves minced

1/4 teaspoon ground black pepper

4 Salmon fillets

1 tablespoon of sesame seeds and the stem of a sliced chives to serve
For mango and avocado tartare
1 large tomato, peeled and diced
chopped red pepper (1/2 large)
chopped fresh coriander
1 chopped purple onion
1 large avocado, peeled and diced
1 tablespoon fresh green lemon juice
1 tablespoon olive oil
Salt and pepper to taste
Directions
In a small bowl, we put the soy sauce, brown sugar, vinegar, cornstarch, garlic and pepper. Beat until the sugar and cornstarch are dissolved.
We put the salmon in a Fresh and Save storage bag. We put half of the soy sauce mixture in the bag and vacuum it. In this way the marinade will be faster and will be distributed throughout the salmon. Heat a saucepan with water and put the bag of salmon. We leave about 20 minutes at low temperature (about 50 degrees).
After this time, we take the salmon out of the bag (discard the marinade), and pass it through the griddle until it browns.
For the teriyaki room, we put the rest of the soy sauce mixture into a small pot. Boiled and simmered. Simmer for 3-4 minutes, until the sauce has been reduced and thickened. Remove from the heat. Paint the cooked salmon with teriyaki frosting and sprinkle with sesame seeds and green onions.
For tartare, while passing the salmon on the griddle, in a medium bowl, mix the tomato, pepper, coriander, purple onion, avocado, lemon juice, olive oil and a little lime juice. Season with salt and pepper to taste. We put it in another bag and make the vacuum so that it is preserved with all the flavor and color.
When the salmon is ready, we serve it with rice and tartare
Tips and Tricks
You can add and remove fruits and vegetables to your tartare as you prefer
Once marinated and baked it holds in the fresh and save up to 6 days with the vacuum
Difficulty: easy
Preparation time: 35 minutes
Servings: 4