These anise donuts are undoubtedly Juanje's favorite Christmas sweet. It is curious, as being three at home, none of us agree on our favorites and although in general we all eat everything (except Juanje who is the least sweet), each one has their preferences.
Many years ago I discovered the pleasure of making nougat and mantecados and other Christmas sweets at home, and I no longer buy any unless I suddenly want to try some mantecado from an artisanal workshop of nuns.
These donuts besides being delicious are very easy to prepare and you do not need to have any experience in the kitchen to leave delicious, so I hope you are encouraged to prepare them and enjoy the taste of homemade with love.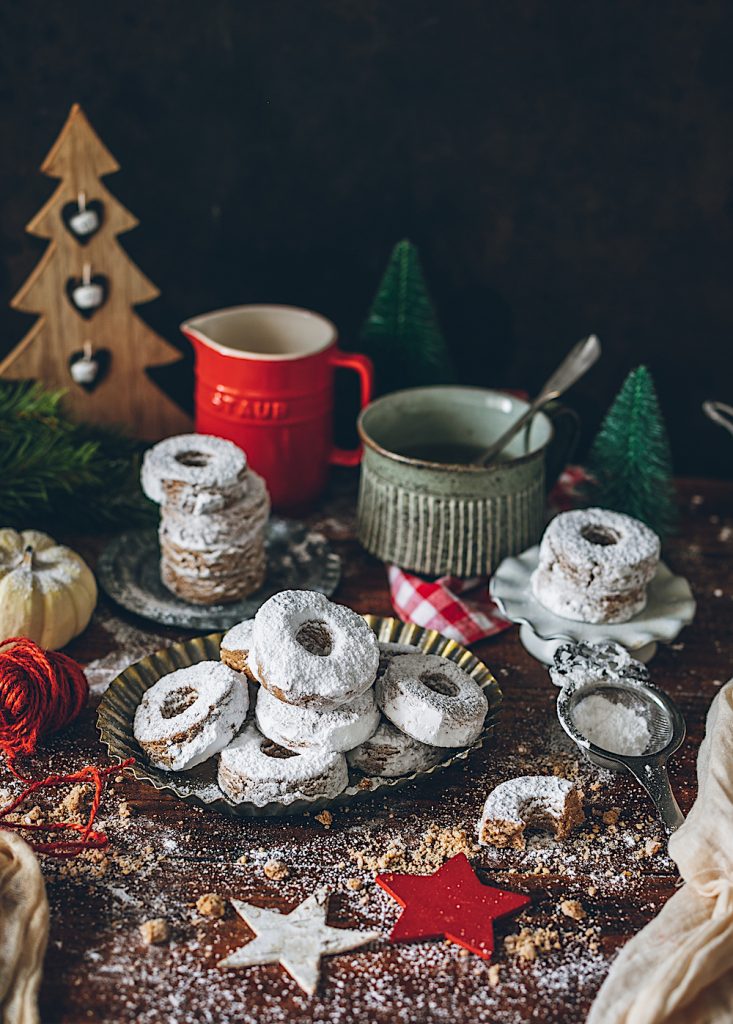 Ingredients
400 g flour
65 g sesame
100 g icing sugar
150 g lard
2 teaspoons cinnamon
3 tablespoons sweet anise
zest of one lemon
90 ml sweet wine
icing sugar to decorate
Directions
Preheat oven to 160 ° C
Toast the sesame over low heat in a pan.
Toast the flour in a pan moving non-stop so that it is toasted but without burning, we will know when it is when it has lost the white and has a slightly toasted color
Sift the flour and add the cinnamon, lemon zest and icing sugar and return the sesame to our mixture. Mix with a spoon and add the butter at room temperature. Mix well and add the Muscat wine and anise. Knead with your hands until the mixture is homogeneous and does not stick to the hands.
Transfer it to the work surface on a baking paper. Spread the dough lightly with your hands and cover with another baking paper. We spread it with the help of a roller. We must have an iron at least 1.5 cm thick.
With the help of a round cookie cutter, cut the donuts. To make the hole in the center I used an apple disheartener, but if you do not have you can use the tip of the handle of a large wooden spoon.
Place the donuts on a baking tray on which we will have put a baking paper.
Bake for about 15 minutes until lightly browned. We carefully pass them to a rack so that they cool completely, and when they are no longer hot, sprinkle them with icing sugar.
Tips and Tricks
You can add orange zest
They keep very well in an airtight container or in a can
They are perfect for gifts
Difficulty: easy
Preparation time: 30 minutes
Servings: 25 roscos