These ravioli with Neapolitan sauce are one of my favorite pasta dishes. You can use the ravioli that you want, but those that are filled with ricotta go very well with this sauce.
Of course the sauce also serves you for another type of pasta but with the ravioli they go great.
I wanted to tell you something important when preparing ravioli and is that stuffed pasta does not xe elaborate like the rest of pasta. For any sauce and to be able to butter the sauce with the pasta, water is added from the cooking of the pasta, because that adds a little starch to the sauce and leaves it much creamier. Once ready, add the pasta to the sauce
However, when it comes to making ravioli with sauce they are made the other way around: we add the cooked ravioli to the sauce to which no cooking water is added from the ravioli
That said, let's go for the recipe because my mouth is already watering.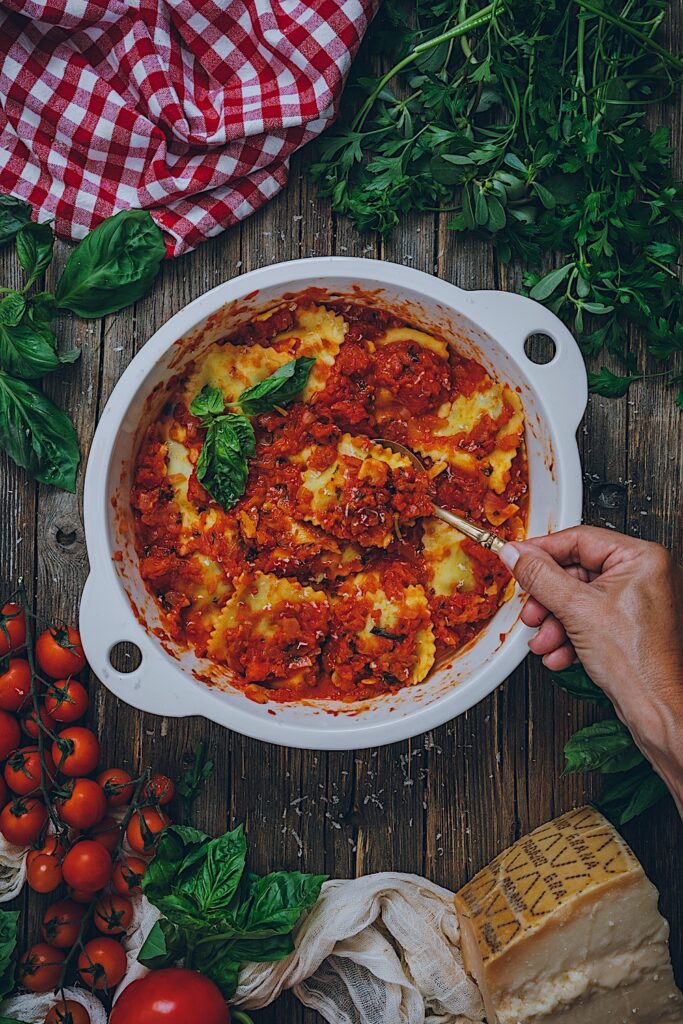 Ingredients
a pack of stuffed ravioli
2 tablespoons oil
2 cloves of garlic
1 onion
3 red tomatoes but not very soft (I used pear tomatoes)
a few fresh basil leaves
1 can of crushed tomato (you know that I use Mutti, and this is not advertising, it is the one I use because it has 99% tomato and 1% salt and nothing else)
a little salt
a little ground black pepper
a pinch of sugar
1 teaspoon oregano
Directions
Prepare a bowl with water and ice.
With the tip of a knife we make a cross on the skin of the tomatoes and set aside.
We put a saucepan with water to heat. When it boils add the tomatoes and leave 1 minute. Transfer to the bowl with ice and let cool. When they have cooled, remove the skin with the hand (you will see how it is very easy). Cut the tomatoes in half lengthwise and each half into 4 quarters. Reserve
Chop the garlic and onion separately, and also chop the basil. Reserve
In a saucepan sauté the chopped garlic in the oil. When it has browned, add the onion and cook until soft. Then add the chopped tomatoes, stir and add the crushed tomato and chopped basil. Season with salt and pepper, stir well and cover to cook for about 8 minutes.
After this time, add the pinch of sugar (this will make the sauce lose its acidity), and the oregano. Stir again and let it cook for a couple of more minutes so that the sauce evaporates and is thicker.
Meanwhile, cook the ravioli in plenty of boiling water. When they are ready, remove them with a skimmer or a strainer to drain the water well. Place them in a dish and put the sauce on top. Ended up with a little grated Grana Padano cheese. And ready to enjoy as in the best Italian restaurant!
Tips and Tricks
Add the sauce over the ravioli
Try this sauce with your pasta favortia
Difficulty: easy
Preparation time: 15 minutes
Servings: 4