This bread without kneading and are a blender will make you fall in love like no other before. the cocotte helps but is not essential You can bake it in a round cake mold or in a saucepan suitable for oven.
To make this bread you will only have to take into account:
For the crust to be crispy, it is important to have water in the oven when putting it in. Moisture will make a crusty layer left. If you are afraid to drop the water inside,. You can put two or three ice cubes.
The cocotte and its lid make the bread cook inside without burning on the outside. If you do not have you can use a saucepan suitable for oven with lid, or a cake mold but placing on top a sheet of double aluminum foil so that the crust does not burn and acts as an oven.
It is a very easy bread and I am sure you will fall in love.
Here I leave the video
https://www.instagram.com/p/CrvaQ-Ntg8k/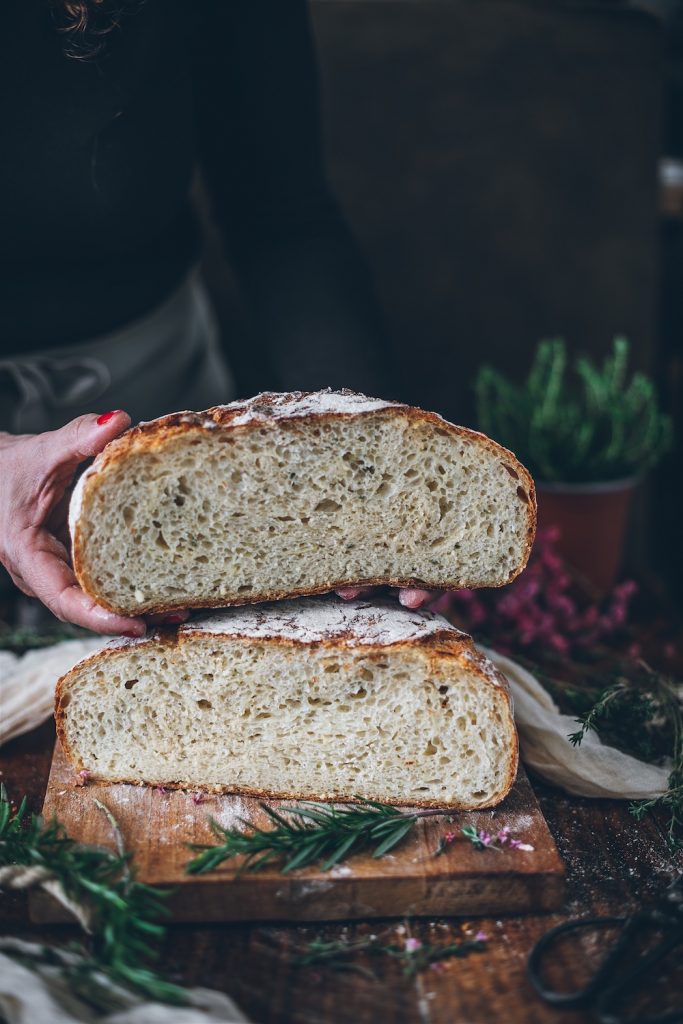 Ingredients
300 g potatoes
400 ml warm water
10 g dry yeast
550 g strength flour*
2 teaspoons salt
a few sprigs of Rosemary
Directions
Wash the potatoes well with skin and cook (boiled or in the micro).
In a bowl, put the flour, salt, yeast, mashed potatoes and chopped fresh rosemary. Mix and add the slightly warm water.
Mix with a wooden spoon, cover and let rise for 2 and a half hours.
When the dough has risen, we pass it to the work surface sprinkled with flour. We give it a flat and somewhat oval shape. And we fold on itself folding from the right to the center and the same on the left. From bottom to center and from top to center. We turn so that the folds are down and form an oval ball with our hands simply pushing it gently from side to side with the palm of the hand open.
Put in a banneton (a basket to rest the bread) and sprinkle with flour and let stand 20 minutes
If you don't have banneton, you can put a cotton rag in a large bowl. Sprinkle with a little flour and let the bread rise for another 20 minutes.
Meanwhile, we preheat the oven to 220 degrees C with a saucepan inside (I use an iron one that are best for baking bread). After this time, put the bread dough on a baking paper. Take out the saucepan and put the bread inside. Cover and bake 25 minutes.
After this time, we lower the temperature to 200 degrees, remove the lid. Put a container with 200 ml of water at the bottom of the oven and let bake for 30 more minutes. When introducing the saucepan back into the oven and before closing the oven door, we will throw a glass of water at the bottom. Yes, we throw away the water. This will create a lot of steam and cause the bread to come out with a very crispy crust.
Remove from oven and let cool before cutting. It is important to remove it from the saucepan and remove the paper and let it cool on a rack. This way it will stay crispy
Tips and Tricks
*I use high strength flour (Manitoba) that I buy at the Amasadero. I love to make breads whether crumb, mold, focaccias or brioche.
Difficulty: easy
Preparation time: 10 minutes + 2 and a half hours + 25 minutes + 60 minutes oven
Servings: one kilo loaf of bread