These are my mother's lentils, the ones of a lifetime, light and delicious that I make without fat to lighten the preparation for Christmas that you already have next to you
They do not carry meat or fat but they do have all the flavor of traditional chup-chup. And today I bring you the lentils that have been prepared in my house of a lifetime, those of my mother of always that to me (like the croquettes of each mother), they seem the best.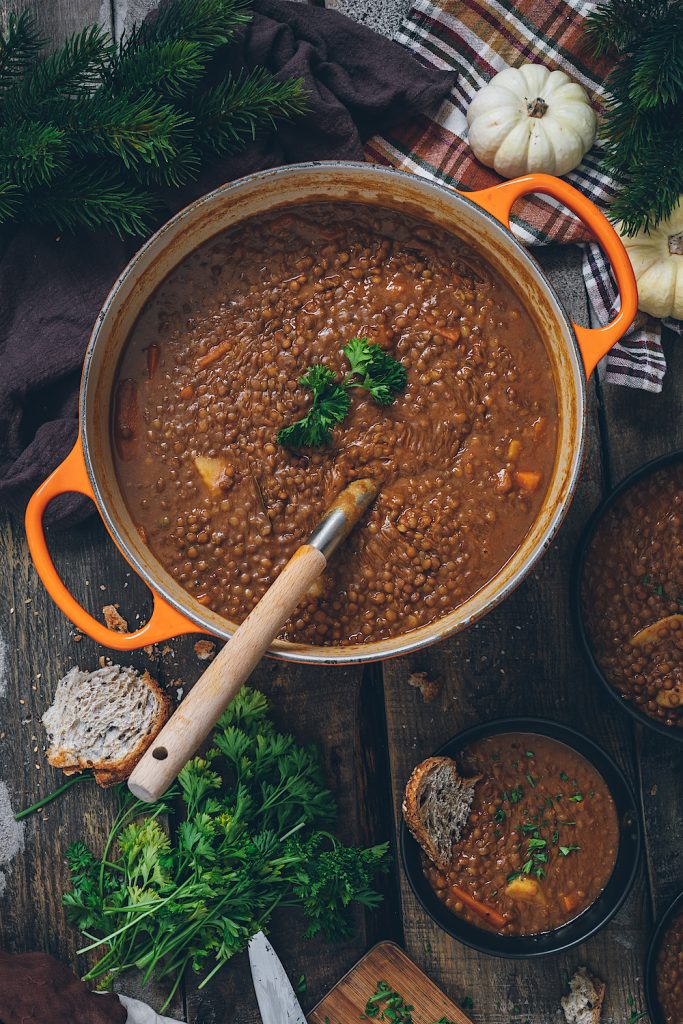 Ingredients
80 ml extra virgin olive oil

2 onions
2 cloves of garlic
2 slices wholemeal bread
150 ml homemade fried tomato
A teaspoon of sweet paprika
1 kilo lentils
Water
2 Bay leaves
2 cloves
Half a teaspoon of salt
5 carrots
4 medium potatoes
Directions
The night before we soak the lentils. The next morning we rinse and drain them.
Peel and cut the carrots into sticks.
Finely chop the garlic cloves and onions. Sauté in the saucepan in which we are going to cook the lentils with the oil over medium heat until they are tender. Then add the slices of bread and let them fry until they take a golden color on both sides.
Add a little water to wet the bread and with the help of a hand mixer, crush until you get a fine puree. Add the homemade fried tomato and sweet paprika, peppercorns and cloves and let fry for a minute.
Add the lentils to the saucepan along with the carrots. Peel the potatoes and cut them into segments and add them to the saucepan. Cover with water, add the salt and move well.
Cover and let cook for about 45 minutes over low heat stirring occasionally. We have to eat them until they are tender.
Serve the lentils very hot and enjoy!
Tips and Tricks
You can make them in an express pot. You have the recipe, HERE
You can make half the amount by dividing all the ingredients by two
If you like it with chorizo you can directly put the chopped chorizo
Difficulty: easy
Preparation time: 45 minutes
Servings: 10