The first edition of the contest Home Chef three star that WMF was a success and a great experience for my. In the world of cuisine there are already a lot of contests for cooks and professional chefs where their originality, work, dedication and success is rewarded.
However there are many awards that are given to the chefs at home to those amateurs who all of us are. That no showcase or clients every day we get into our kitchens to prepare the richer we can sometimes without even having all the ingredients that we would need.
But that's become a chef at home. Dealing with the "there are no eggs and I wanted to make an omelette," or "not left me garlic to make a sauce". We invent and put a lot of love in which we prepare for the most important people in the world: that we want.
Thinking of them, WMF created the Academy star WMF, an online school of cuisine created for home chefs who want to learn techniques or improve your kitchen through videos and tutorials taught by professional chefs that also give tips and tricks.
And for those chefs of House (HomeChefs), who are not professional, WMF has created this award of three stars, the first prize which recognizes the quality of these amateur chefs. Because the chefs are not always professional chefs to not?. And here is awarded to chefs that show us your passion in the kitchen from home using a few techniques learned in the Academy and teaching us some fantastic presentations. As befits all of a chef, we will.
And so arises the award three stars Homechef, first prize which recognizes the quality of these amateur chefs. Because the chefs are not always professional chefs to not?. And here it is awarded to those those who are super chefs but without being professional.
So it was a lucky and something very special for me to be part of the jury of the first edition of the contest Home Chef three star that WMF has created to reward the chefs at home, those who enter in their kitchens every day to cook for the people that live, or for themselves , but with the same enthusiasm and desire with a professional chef does.
It has been an unforgettable experience to be part of the jury (Paco Cruz – The Foodmanager, Cristina Reque – Managing Director of Miele Iberia, Julio López – chef of the WMF online academy, and Christian, Director of WMF Spain).
The jury had to assess the three finalists dishes: Rosalia, Juan Pablo and Esther. The order, cleaning, execution, technique, and above all the taste of the dishes, and all while cooking in two hours a full menu consisting of a starter, a main course, a dessert.
All three were winners to overcome the challenge of cooking, and well, the three dishes under the watchful eye of 10 eyes inquisitors who whispered to her around and watched them carefully: the jury's. Put us in addition very difficult and the deliberation was long because really any of the three could have won.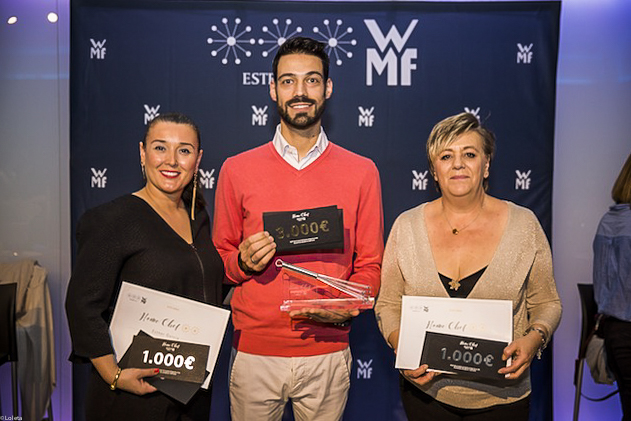 Only one could win the prize winner and the title of first Home Chef three star Spain WMF, the batch of WMF products valued at € 3000. And that was John Paul. But the two finalists did not leave empty-handed: all our love and respect, and €1000 in products WMF that already I'd like them I for my. Best of all illusion and desire that brought, and rather than spend it.
The awards ceremony was a separate event, in which I was lucky to emcee. And although I have to confess that I spent many nerves, I enjoyed it a lot. WMF is a brand I know always. A prestige brand that I have to thank in the soul that I chose to be part of the jury and to host the event.
It was great. An experience from which I learned a lot and who stays longer with me forever as all the special things that are happening to me.
This has been the first edition of a competition that has been created to last over time, to recur every year and thus support the most important kitchen: from daily and without which the cuisine of chefs and chefs would not have existed. That everything has a source, and the kitchen is in the kitchens of all of us.
Thank you for thinking of us all WMF.