These ham and cheese puff pastry with pistachios are a delight for the palate. So easy that you will not believe them and so beautiful that you will succeed just by putting them on your table.
The ingredients are very simple and you will almost have them in the fridge to prepare them and they are tantric that everyone at home will like including children.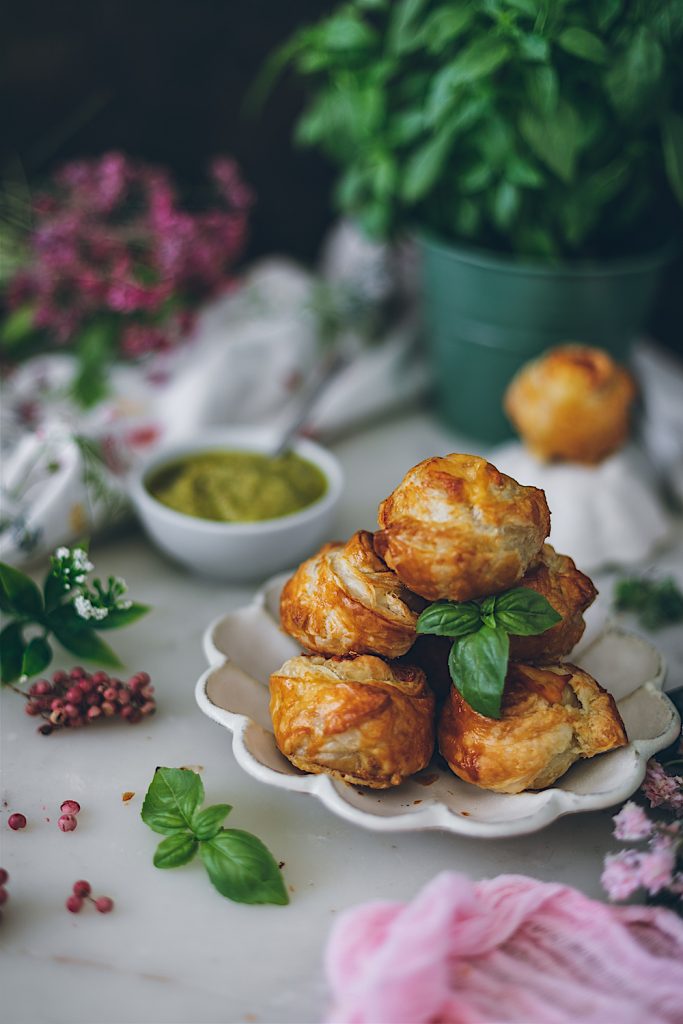 Ingredients
1 puff pastry sheet
100 g and chopped ham
100 g grated cheese
1 egg, beaten
For pesto
80 g Parmesan Reggiano
60 g pine nuts
1 large bunch of basil
100 ml extra virgin olive oil
2 cloves of garlic
Directions
We first make the pesto by crushing all the ingredients in a food processor or blender.
Spread the puff pastry and cut circles about 10-12 cm in diameter.
We make 4 cuts forming a cross without reaching the center of the circle leaving a center of about 2 cm on each side. Paint with the beaten egg.
Put in the center a teaspoon of pesto and top a little ham and grated cheese.
We close a petal by embracing the stuffed len. We continue with the front stop and then with both sides so that we will want a flower of 4 petals and the filling in the center.
Paint with beaten egg by force and bake at 200 ºC for about 15 minutes until golden. Serve with the remaining pesto.
Tips and Tricks
You can put tuna instead of ham in your filling
You can freeze them before baking
Difficulty: easy
Preparation time: 20 minutes
Servings: 9 flowers