This cream of roasted vegetables with mustard is the first recipe of the year after the roscón de Reyes. It has been a fantastic day within how rare Christmas has become again.
And I love writing it because surely when we read this again in a season, it will seem like a nightmare by the day and we will have returned to normal.
With this recipe I come to fulfill my promise to cook somewhat healthier recipes that allow us to take care of ourselves and I will tell you that this is almost 100% fat free. But instead of telling you, better to go directly to prepare it, don't you think?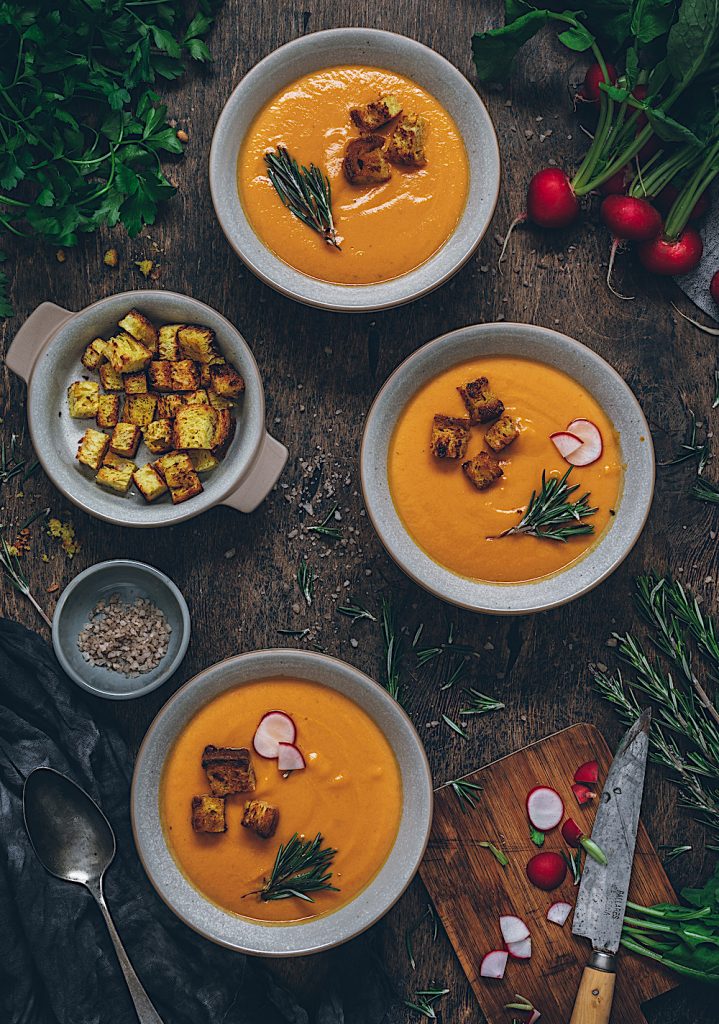 Ingredients
1 kg of zahahorias
1 leek
1 red onion (or the one you have)
1 head of garlic
1 liter of broth and chicken
100 g skimmed cream cheese
1 tablespoon Dijon mustard
Directions
Peel the carrots. Cut the leek into strips. Peel and cut the onion in half and cut the garlic head in half.
On a baking plate we put a baking paper in the background. Put the vegetables on top and cover with another baking paper. Seal with foil and bake for about 30 minutes until the carrots are tender.
Dry the vegetables of the honor and let them temper. We put them in a saucepan and crush them with the broth.
Let it boil. Meanwhile, cut the bread into squares and put on a pan with half a teaspoon of olive oil. Let brown until crispy. Reserve
In a bowl mix the cream cheese with the mustard. Add this mixture to the cream. Rectify salt and add a little freshly ground black pepper.
Serve very hot with a few cuscurros of bread and some fresh herbs on top.
Tips and Tricks
Replace cream cheese with yogurt or cream
You can make this same recipe with pumpkin
Difficulty: easy
Preparation time: 45 minutes
Servings: 6