The brioche is a bun that has its origin in Normandy / (France) and that is a bread with a butter base that makes it completely different in flavor and texture to a traditional bread.
There are lots of recipes for brioche but this one that I bring you today has a plus, and that is that it does not need kneading. Everything is done by the slow rest that we are going to give you for a few hours in the fridge and that makes it juicy, soft and with a lot of flavor. Well, the rest and the butter it carries that gives it a unique texture.
The most important thing that the brioche slight well and at first is the temperature of the ingredients that must be at room temperature. Butter is not a problem if we forget because we are going to add it melted, so we heat it and ready, but if we forget the eggs in the fridge, we can put them in hot water (not boiling) for a minute to gently remove the cold. It is also important that the water we add is warm so that it activates the yeast and the levado is perfect.
Finally it is essential to cool the dough in the fridge. You will need a total of 7 hours from the start until you have the brioche ready opero will be worth it because it will not give you any work, you will see!
This way of resting and kneading is based on one I read in the book Bread in 5 by Zöe Francois (@zoebakes), an American pastry chef who works magic with flour and which I have already told you about other times. She, like Daniel Jordá (@daniel_jorda) does in many of his pastry recipes, they do not infinitely knead the doughs, but replace those kneaded with prolonged levados to the cold.
The fridge makes the butter harden and that makes the dough much more manageable. In this way, whether or not you are an expert you can make masses so rich.
Finally I love to rest the dough all night in the fridge because it is delicious, but I assure you that with 3 hours the bread comes out to put a floor with balconies to the street. You will tell me!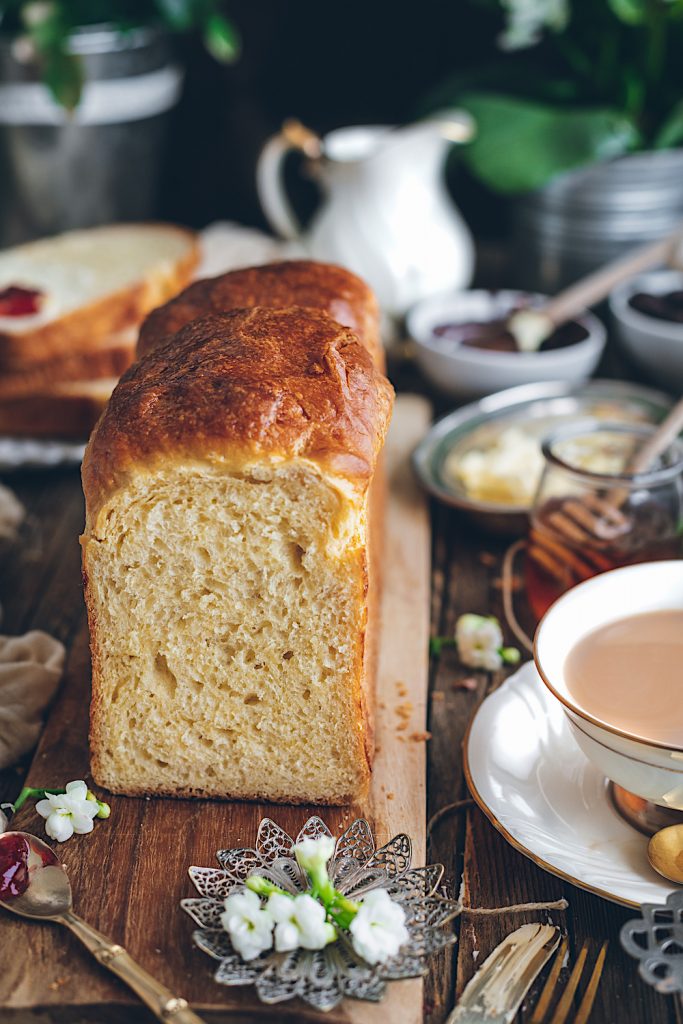 Ingredients
170 g warm water (not more than 38 degrees)*
6 g baker's dry yeast or 18 g fresh baker's yeast
8g salt
3 large eggs lightly beaten (weighing about 170-175 g)
90 g honey
170 g unsalted butter, melted
515 g white wheat flour
1 egg beaten with a little water to paint the bread
Directions
Mix the yeast, salt, eggs, honey and melted butter with water in a large bowl or in a container with a lid.
Add the flour, and using a wooden spoon or a Danish mixer (which is my favorite utensil for doughs) until we incorporate all the flour. It is possible that we need to mix the last part with our hands so that all the flour is well integrated.
Cover (not hermetically) and let stand at room temperature for about two hours. Put in the fridge at least 3 hours.
Grease the mold generously and put on top a greased baking paper as well. I mold measures 30 x 9. If yours is smaller you can make two loaves.
If you make a single large bread:
Cut the dough into two pieces. As I made a single bread, I cut it into 3 equal pieces and with each piece I formed a ball. With the help of a little more flour we form a ball tensing the dough slightly, rotating it from below forming a ball.
Put the dough on the mold, cover with film paper and let stand 90 minutes
If you make two loaves:
This dough gives to make two smaller loaves. In that case you take the dough and cut it into two balls, one for each mold. With the help of a little more flour we form a ball tensing the dough slightly, rotating it from below forming a ball.
Put the dough on each mold, cover with film paper and let stand 90 minutes
Preheat the oven to 175 degrees depending on hot air or convection and place a grid in the center.
Paint the top of the brioche with beaten egg and bake about 45 minutes until golden brown. Let cool completely on a rack before cutting it and enjoy!
Tips and Tricks
If we forget the eggs in the fridge, we can put them in warm water (not boiling) for a couple of minutes to gently remove the cold.
* It is also important that the water we add is warm so that it activates the yeast and the lifting is perfect, but no more than 38 degrees because the yeast would not work then and the dough would have to be thrown away.
For the rest in the fridge for three hours, you can leave it overnight and resume it the next morning. It's what I usually do and the taste of the dough is brutal
Preparation time: 15 minutes and rest times: 2 hours + 3 hours of fridge at least + 90 minutes + 40 minutes of oven
Difficulty: easy
Servings: 10