This recipe for this Blenderless Chocolate Cake is inspired by one of the books I bought in New York on my last visit a few months ago that I fell in love with from the first moment because it's a recipe made without a blender, with just a bowl and a few hand rods or a wooden spoon.
This Chocolate Cake is inspired by Devils Food cake's recipe from the book Bravetart stella Parks which has many rich and beautiful recipes and whose only problem is that it is only edited in English, but that it has super rich recipes. However, I didn't want to call it Devil's Food Cake because the texture looks more like a brownie or a wet sponge cake than a sponge cake. I promise to bring you Devil's Food Cake very soon.
This is my chocolate cake adaptation because I've changed some ingredients and their quantities and it's turned out to be a frankly good recipe (even if it's ugly for me to say it), and it stays forever on my cake list.
Frosting is my usual recipe because I love it as is and it doesn't need more change than the one you use your favorite chocolate more or less black depending on your taste.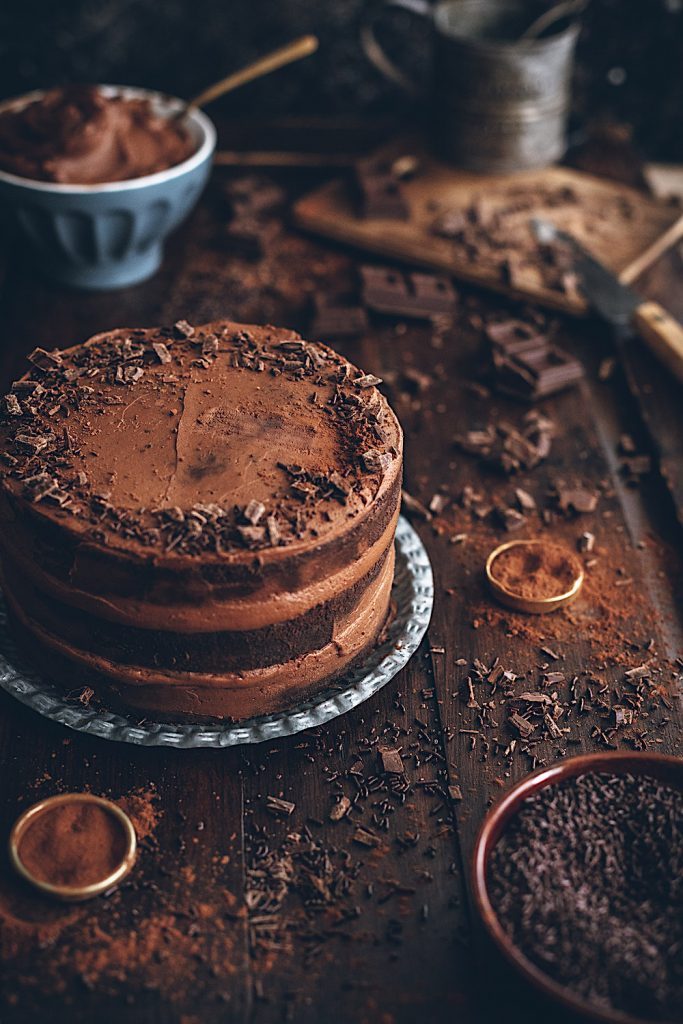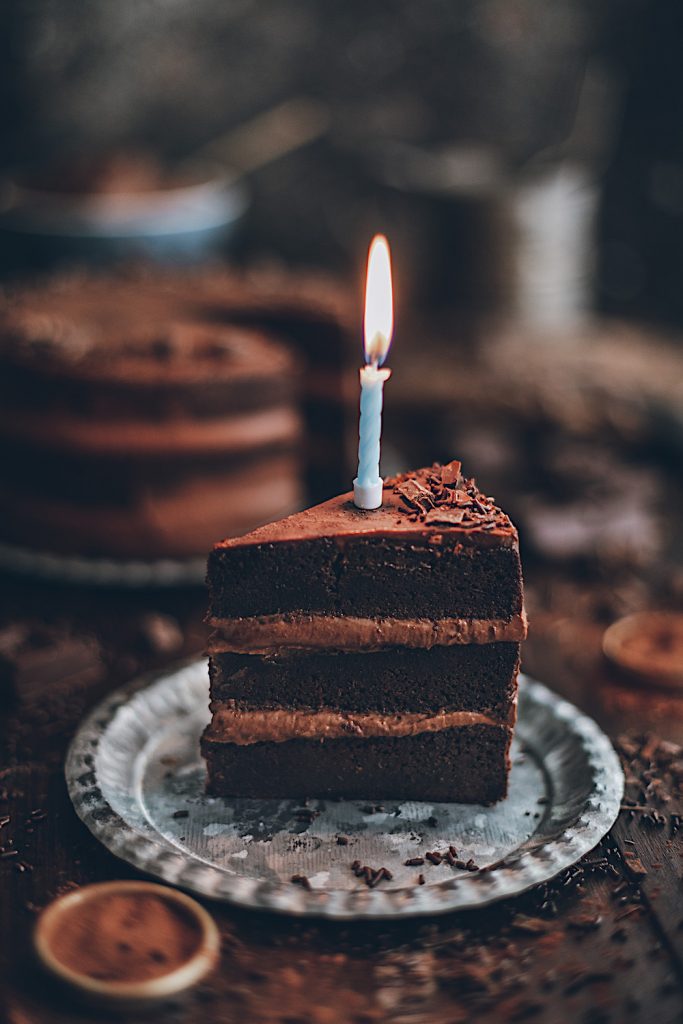 Ingredients
For chocolate cake biscuits
260g unsalted butter
260 ml of coffee (I use decaffeinated)
65g pure cocoa powder
125g dark chocolate, about 70% good quality
300g whole sugar cane
1 teaspoon of vanilla extract
8 large cold eggs
300g plain flour
3 teaspoons baking powder
a pinch of fine salt
For frosting or chocolate cream
400 ml liquid cream (does not serve cooking cream)
100 ml of creme fraéche or semi-assembled cream with at least 35% fat
375g dark chocolate, about 50% good quality (you can use it blacker but it will have a more intense flavor. I think semi sweet goes great on this cake)
60g salted butter
1 teaspoon vanilla
Directions
Preheat the oven to 180oC and lightly grease 3 20 cm molds by placing a baking paper at the base. This chocolate cake I made it in Malaga where I don't have many molds, so I bought molds to use and throw away, and instead of throwing them away, I washed them and left them in Malaga to use when we're there. They measure less than 20 cm but were perfect in this recipe.
Melt the butter with the coffee moving from time to time until the butter melts completely. move on to a large bowl and add the cocoa powder and chocolate and mix until the chocolate melts. This lowers the temperature of the mixture so that the eggs will not hang when added.
Add the sugar and mix until combined, add the eggs and mix with the dough until completely combined. It is important that the eggs are cold so that they do not get well with the heat of the chocolate. Add the vanilla and mix again.
Finally mix the flour, yeast and salt in a bowl, and with the help of a strainer sift over the chocolate mixture, mixing with a spatula until combined.
Divide the chocolate cake dough among the prepared molds. To do this we weigh the dough, divide it into 3 equal parts and fill the molds. Bake for 30 minutes or until the cake begins to peel off the sides of the pan. It's a wet sponge cake so we can't poke it to check its point because it shouldn't be dry. Let cool in the pans for 10 minutes before unmoulding and allow to cool completely on a rack.
To make the chocolate cream, we heat the cream in a saucepan. In a bowl we put the chocolate chopped with knife. When the cream starts to boil, we overturn it over the chocolate and wait 5 minutes without touching it.
Mix with a spatula until there are no chocolate pieces left and we have a smooth, soft cream. Add vanilla and butter and salt and mix.
Let cool for about 10 minutes until the chocolate has lost heat and add the creme fraéche or the semi-assembled cream with enveloping movements. Let it cool completely. We put the cream on a pastry sleeve. We cut the tip leaving a cut of about a cm and a half.
Using a pastry sleeve to fill, we make sure all layers are the same thickness. So it's easier than then, besides rich, it's pretty.
We base the Chocolate Cake a cake and with the help of the sleeve we put a layer of cream forming circles around the cake. Put on top of another cake and repeat until finished. With the rest of the cream we completely cover the cake with a very thin layer. let stand in the fridge for a few hours. we decorate with some chopped chocolate and that's it!
Tips and Tricks
I made this cake in Malaga where I don't have many molds, so I bought molds to use and throw away, and instead of throwing them away, I washed them and left them in Malaga to use when we're there. They measure less than 20 cm but were perfect in this recipe.
This chocolate cake freezes very well so you can prepare it and store it in the freezer until we go for a drink. In this case we defrost it 24 hours in the fridge and remove it from the fridge one hour before serving it.
Difficulty: easy
Preparation time: 1 hour longer of cooled
Servings: 10