These Guabao or bao buns of crispy prawns will make you an expert in steamed breads. It is a very easy recipe to prepare and with a great result.
It can be used to take advantage of the remains you have in the fridge and fill them with whatever: meat, fish or even vegetables, with curry, grilled wing with your favorite mayonnaise ... Let the imagination flow and fill them with what you like best.
And in addition to all this they freeze super well so do not hesitate to make quantity and freeze those that you are not going to take at the moment, and take them when it suits you.
I usually have them in the freezer and we take them many times watching tennis or football and fill them with the ones in the fridge. The result is brutal and I hope you like them as much as we do.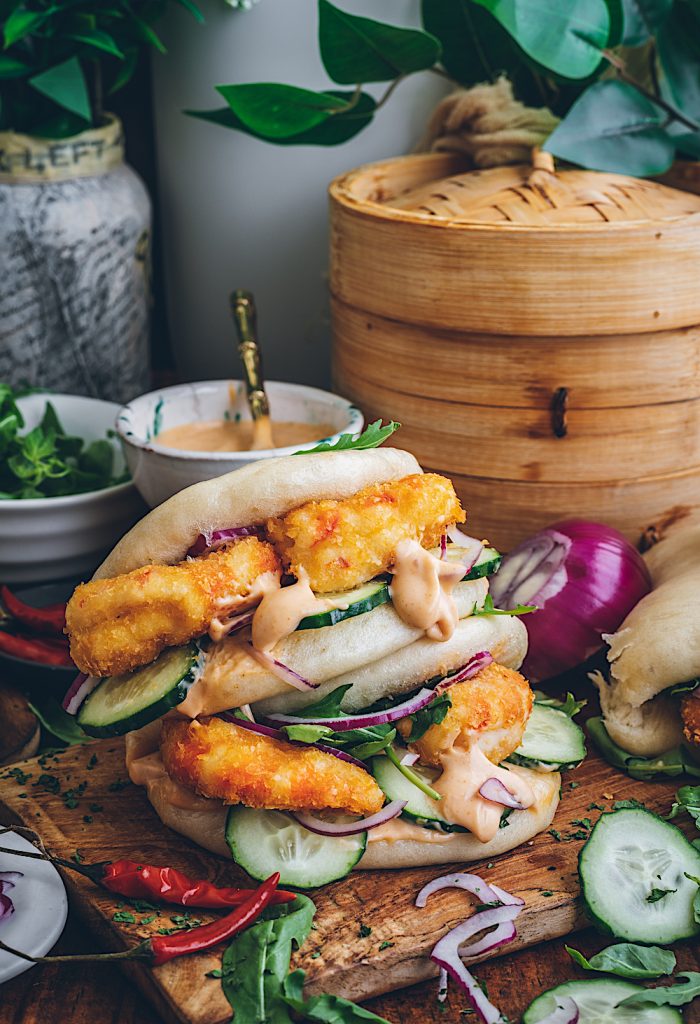 Ingredients
For the bao buns
500 g wheat flour c
8 g baker's dry yeast (or 24 g fresh yeast)
50 g sugar
250 ml warm milk
50 ml of sunflower oil and a little more to grease the baos
For shrimp
18 shrimp
100g flour
100 g potato flakes
2 eggs
a little salt
For the filling
80 g arugula
1 cucumber
1 red onion
4 very red medium tomatoes
2 tablespoons mayonnaise
1/2 teaspoon sriracha or a little tabasco or chili sauce (whatever gives you a little rock and roll)
Directions
We clean the prawns by removing the gut from inside. Reserve.
For the dough, mix the flour, sugar and salt in a large bowl. Dissolve the yeast in some warm milk and wait 5 minutes. Add this mixture to the flour bowl along with the rest of the warm milk, oil, and baking powder. Mix until you get a smooth dough.
We can knead by hand on the countertop or do it in an electric mixer until the dough is detached from the bowl (about 8 minutes at medium speed). Cover with a damp cloth and let stand for 1 hour, or until it doubles in size in a warm place free of drafts.
When the dough has doubled its volume knead for a minute to remove the gas from the dough. We form a cylinder of about 30 cm and cut pieces (I cut 12 but it depends on the size you want to come out more or less)
With the palm of your hand, we form a ball with each piece and stretch with our hands forming a circle or an oval. Rub the surface of the dough with a little oil with your hands and fold in half on yourself leaving inside the greased part. Cut a piece of baking paper and put the bao still on it
Repeat with all the pieces of dough and let them rest on a covered oven tray for an hour.
After this time we only have to cook them. THE easiest is on a steamer placed on a saucepan with boiling water. It is important that the water does not touch the steamer. About 10 minutes will be enough for each bun.
Open each bread in half and put a layer of mayonnaise sauce mixed with the sriracha. Then add a few slices of cucumber, the prawns, a little red onion cut very thin and finish with the tomato and some arugula leaves with more sauce.
Surprising and delicious. You like it for sure.
Tips and Tricks
Try filling them with Creole pork(recipe here)
Difficulty: easy
Preparation time: 2 hours
Servings: 12 bao buns