With this simple recipe for healthy chips with 2 sauces, you will get the perfect appetizer to succeed at home. I love chips, potato chips I also do with sweet potatoes and blue potatoes and eat the same appetizer that watching a movie at home.
It is usually a roll because there is that heat oil and FRY, as well as having more calories count to take them on a daily basis, representing a bit of hassle in the kitchen. And is that why I almost always prepare my healthy chips in the micro, which serves much more than to heat the milk,
I recently had this Chef Plus microwave from Whirlpool, a large one with plenty of space that in addition to heating and defrosting, baking and having grill, has a function that has in love with me. It's called Dual CrispFry and makes the texture of food like fried without having to use oil. I really couldn't believe it, but here's the result of these healthy chips. (By the way you have a 15% discount until December 13th on this link so you can cook these parties a lot of rich ideas that you have in your website).
I have to confess that almost never used the microwave for more than to heat the food. However, little by little I have learned to cook also, like my recipe of the Green fish curryIt is so easy and so rich that prepares it to my son.
This today is another one to add to the espresso recipes that triumph the same among the friends of my teenage son, who in the party of meets my nephew than in appetizers around the kitchen of my nights of dinner with friends at home.
Today we these healthy chips to accompany some easy and different sauces so that in addition to eating them as is, you can serve them with a few dips to whet your appetite in the days of so much food that they come to us in the coming weeks. An ideal appetizer for lunch and dinner you can make without complications and in an open and blink of an eye. Let's get them!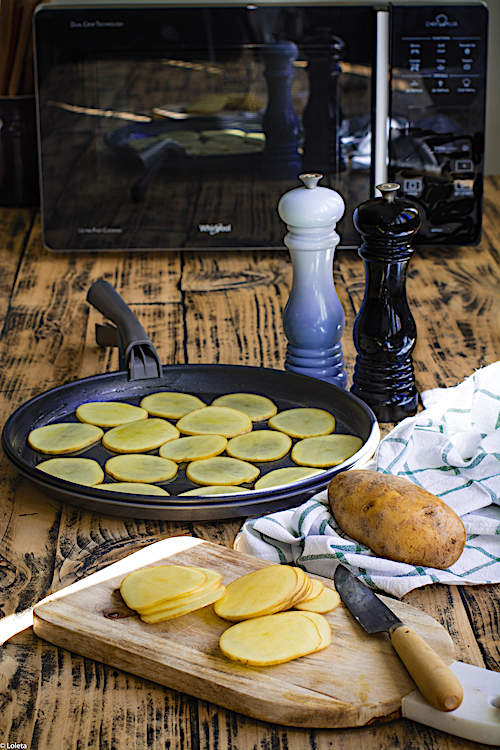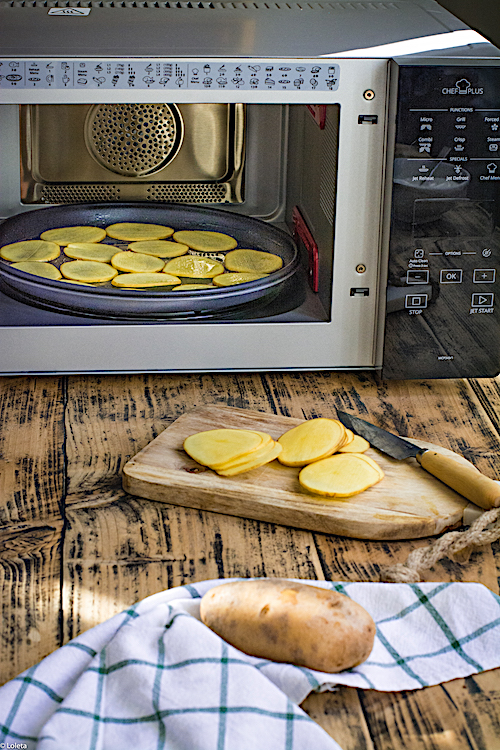 Ingredients
2 potatoes
2 sweet potatoes
2 blue potatoes
a little extra virgin olive oil
Salt black pepper
Curry mayonnaise
200 ml sunflower oil
1 egg
1 teaspoon of curry powder
1/2 teaspoon fresh grated ginger
salt to taste
For the tzalziki sauce
1 Greek yogurt
1 piece of fresh cucumber
1 bunch of fresh mint
1/2 onion
1/2 clove garlic
salt and pepper
1 lime
Directions
Wash the potatoes and sweet potatoes. Dry and cut into thin slices. The easiest thing is to do it with a mandolin, but if we don't have it, we can do it with patience and a sharp knife. Transfer to a bowl with cold water where we leave them while we ended up cutting the rest. Lugo dry them well taking care that it is not empty of water. This will help you good crisp.
Paint with oil (in my case the crisp round dish) dish, and place a layer of potatoes. Paint with oil that has been in the brush, potatoes, and add a little salt.
Enter in the micro according to crisp 7 to 8 minutes. If we use the normal function of the microwave, then put about 3-4 minutes at maximum power, will turn to chips and leave another 3-4 minutes. The exact time depends on each microwave and power having thickness of cut potatoes and moisture. Allow to cool completely. The chips are crispy when they have cooled. If they weren't, we can return to the micro for 30 to 60 seconds.
Once are slightly browned, remove from the microwave and put them in a bowl. Salt to taste if necessary and add some freshly ground black pepper.
For the curry sauce make a mayonnaise with oil and egg. When you have the desired consistency, add the fresh ginger and curry and mix well. Salt to taste.
Finally, to make the tzaziki sauce, chop the cucumber and onion into very small cubes. Mix with yogurt and fresh mint, add a little lime zest salt and pepper to taste.
Serve chips with sauces and enjoy!
Tips and Tricks
Get a tortilla with you Extras: whisk two eggs and add chips. Curdles the tortilla and get ready for the wave that will make you at home without any effort
Try adding your favorite spices: paprika, chili powder, curry potatoes before making them in the microwave...
Difficulty: easy
Preparation time: 10 minutes
Servings: 8
Post sponsored by Whirlpool