When I was 10 years old, my father took us on Saturday to eat at El Refectorium, one of my favorite restaurants in the whole world. One of the reasons why I like so much, is that I remember with much affection, how were my brothers and I, and Cristobal (which peace rests), which at the time was the Manager of the bar, put us a fanta Orange and a little ham shrapnel while my parents came from the pharmacy.
It was the magic moment of the week: I felt greater and important taking into account that came with my three little brothers. We drank so the snack, and when my parents came we ate there, I always the same: a meatloaf. A delicious Meatball of superior size served in a casserole with potato chips.
Since then they have gone there several managers and different chefs, Paco, the owner retired and now runs it local Curry, his daughter and my compilation of the cole. But the meatballs are still there, and now not only are my favorites, but also those of my son.
Miguel on the bar and the restaurant Curry, embroider the service customer that has always characterized this place with one of the best cuisines in the city, and, although it has already 10 years, I still love go, summer terrace and in the winter, to take their meatballs, its croquettes, those little mushrooms, flamenquín or the steak tartar as well MIguel seasoned and by so-called any fish , seafood or meat because care very much for the product.
The Refectorium has grown and now has a younger brother in the Center, behind the Cathedral, carrying Sergio, the small of the family (although all fulfilled years, thank goodness, not only I!), and other major leading Bethlehem, the big brothers in the closed of Calderon.
But for me, the Refectorium is still that special place, that has changed with me, has grown with me and that I enjoy so much everytime I go. They have the best meatballs recipe that may be in the world and today I bring to you. I hope you like them so much as to my son and to my.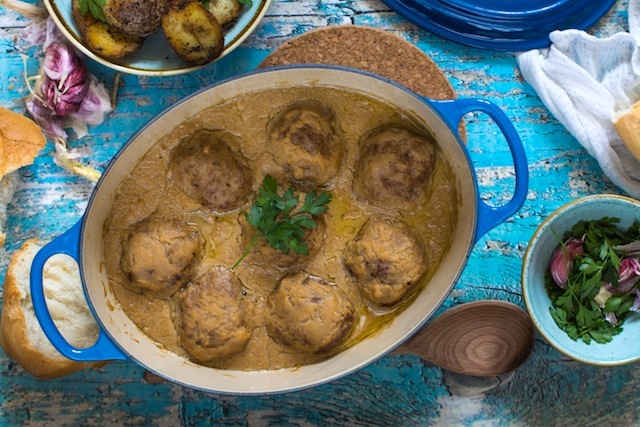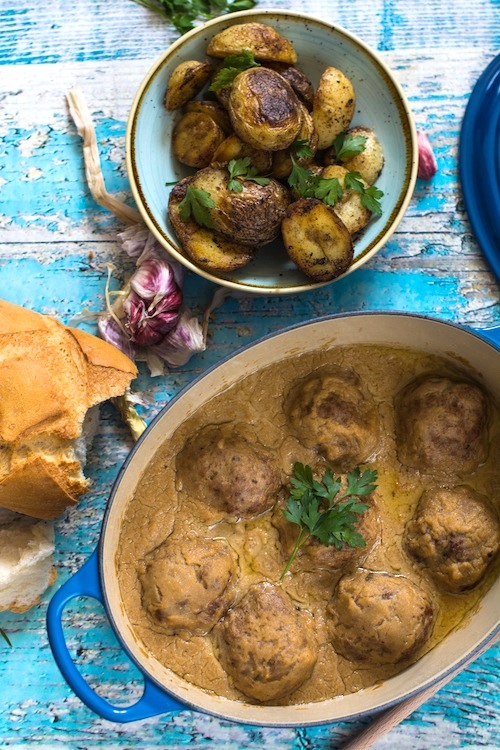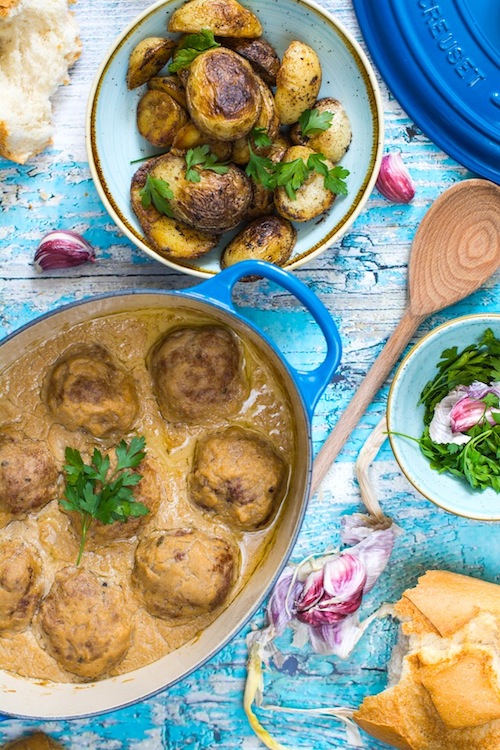 Ingredients
For the burger meat
2 kg of minced meat: 1 kg of pork and 1 kg of beef, chopped twice in the butcher machine €10
1/2 teaspoon nutmeg ground €0.10
1/4 teaspoon freshly ground black pepper €0.05
1/2 teaspoon salt (or perhaps a bit more depending on your taste) €0.03
2 eggs €0.25
1/2 teaspoon garlic powder or 2 cloves of garlic chopped very €0.15
1 tablespoon fresh parsley chopped €0.10
bread crumbs - that need €0.30
For frying
3 tablespoons flour €0.03
olive oil for frying €1.00
For the sauce
2/3 of pan-pan bar (thus we call the type of white bread in my country) fried €0.60
100 g almonds fried €1.00
6 cloves of garlic €0.35
For the sauce
water to cover the meatballs €0.05
1 tablet of chicken broth concentrate €0.10
3 bay leaves €0.05
Salt €0.01
8 grains of black pepper €0.05
Total € 14.22. So little to 12 Meatballs (€1,18 per unit) that you'll have ready to feed a regiment!
Directions
1. first prepare the meat: in a large bowl, mix all ingredients except bread crumbs. Mix well and the dough will be very liquid. We then started to add bread crumbs. About 3 tablespoons will need more or less, but the final amount will depend on the size of eggs and grease that has meat. It should be around 150-160 g balls and balls have to be sturdy. If we see that they rolled back soon after forming them, will have to add a bit more bread crumbs but slowly so that we do not move.
2. in a large satin, put the oil to heat. Form the meatballs and pass them through flour to fry them over medium heat. They will Brown on all sides, so you have to have a little patience and go by pressing slightly with clamps so that the meatballs do not lose their round shape. Put them in a bowl with a paper towel and reserve.
3. in a saucepan low but big oil, fry the slices of bread with the garlic cloves and almonds. The pan should be well fried and well browned on all sides. Spend everything in the pan to a food processor or bowl book.
4. in the same saucepan, place the meatballs, cover with water, add the tablet of concentrated broth of chicken, the Bay leaves, peppercorns and if necessary, a sediment of salt (the chicken broth concentrate cube already has enough salt). Let simmer for 25 minutes.
5 past this time with a mini pimer or food processor blend the mixture. It is important to get a texture more creamy possible by what will add both broth sauce it is necessary to obtain that creamy texture. Once the mixture lightly, add to the Pan and simmer another 5 minutes. Serve with potatoes and long live the meatballs!
Tips and Tricks
These meatballs freeze well, so I always do 2 kg, not less and so I have to three times
All the meatballs out as large as easy is thus weigh them all cook at the same time and will be just as beautiful
Difficulty: easy
Preparation time: 1 hour
Portions: leave some